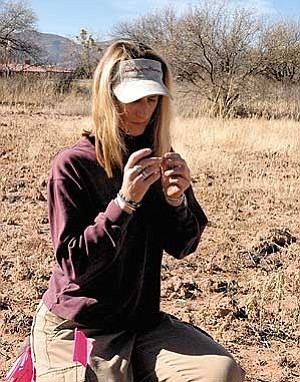 Originally Published: June 13, 2006 4 a.m.
Of all child fatalities in Arizona during 2004, 60 percent of children under 18 die before they are 1 year old. Twenty percent die in motor vehicle collisions, 4 percent of deaths are the result of homicide and 3 percent are suicides.
Of children who kill themselves, most die by gunfire or hanging.
Rebecca Ruffner, who coordinates the Yavapai County Child Fatality Review committee each year, admits that the numbers of successful child suicides is very small in Yavapai County.
"What is troubling is that, of those numbers, all but one of the Yavapai County child suicides have occurred in the Verde Valley," she said.
By comparison, the Verde Valley is only one-third the population on the west side of Mingus.
The Center for Disease Control reports that suicide is the third leading cause of death among young people ages 15 to 24 across the nation. But, in Arizona, suicide is the second leading cause of death. Eighteen percent of students report having thought seriously about killing themselves. Eight percent have attempted suicide at least once.
The overall rate of suicide among youth has declined slowly since 1992. However, rates remain unacceptably high. Adolescents and young adults often experience stress, confusion, and depression from situations occurring in their families, schools, and communities. Such feelings can overwhelm young people and lead them to consider suicide as a "solution."
Few schools and communities have suicide prevention plans that include screening, referral, and crisis intervention programs for youth. Arizona now has a grant funded program Teen Screen to assess students' mental health to determine if there are important signals to investigate. The program only operates in two counties with the highest suicide numbers.
Steve Estes, who administers the Mingus Center in Cottonwood, explains that "child suicides are different from those by adults. Children and adolescents are still developing their central nervous system. Their understanding of mortality is very different.
"With kids, the act is a great deal more impulsive. They act with less thought and that makes suicidal tendencies more dangerous."
Children's understanding of the finality of an act is almost irrational. For juveniles, "so much is about how it will affect other people," he said. "They are doing more than just killing themselves."
The science is very subtle. Any time anyone hears anything disturbing, it should be handled by a professional. For example, "if someone is heard talking about how useless life is, that is a red flag," Estes said. "Parents or law enforcement should be called."
Teens are very suggestible and will mimic others acts. Estes recalls that "in recent years in Flagstaff, teens stood in front of speeding trains in town to commit suicide."
Often parents or teachers will see the signs first ... if a child does not demonstrate the same pattern. If there is a case of "profound hopelessness ... today is not better than yesterday or two days before."
There is a large disparity between females and males. Girls are more like to "attempt," but males are more likely to complete suicide. Males are more likely to use guns. Females often use suicide as a gesture.
All but three of the completed suicides in the states involved males.
Ruffner believes that small numbers of suicides in the Verde Valley are huge numbers compared with population. "Strong but fleeting feelings of self-destruction can change with a phone call. Thousands of children in similar circumstances don't commit suicide."