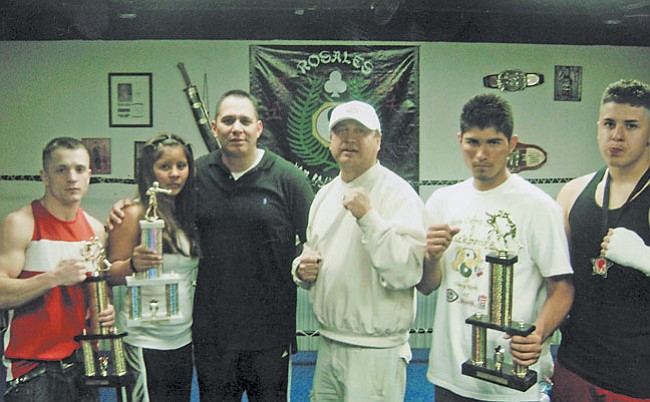 Originally Published: April 17, 2008 12:48 p.m.
On April 12, four fighters from the Golden Cobra Gym out of Camp Verde competed at the Rosales Karate and Kickboxing 'A Night of Boxing and Kickboxing' event in Albuquerque, NM.
Victor Romero started things off with a second round TKO win over Alejandro Lopez from Sigala.
Then in the Mid-Main New Mexico State Title Event, Amanda Honwytewa took on Jessica Garcia from Rosales Gym. Honwytewa fought her first 5-round fight for the title and went the entire five rounds but lost by decision.
"She ran out of gas," said trainer Richard Williams.
Following Honwytewa, Elijah Osborne took on Johnny Herrera from Sedillo. Osborne went the distance through three rounds and won the match from a unanimous decision.
The last fight of the night for Golden Cobra was between Camp Verde's Eric Trahin and Rosales' Kevin Lesperance. Although Trahin has only been training with Golden Cobra for only two months, Trahin knocked down Lesperance in the first round for an eight count. But the initial spark faded for Trahin as he began to lose gas in the second round and lost by TKO in the second round.
"It was a very good fight," said Williams. "It was a good experience for him."
Before New Mexico, the fighters from Golden Cobra competed at the Arizona Golden Gloves event. Elijah Osborne represented Camp Verde in the 119-pound weight class as he took on Alexis Santiago from Knockout Gym. They went three rounds and Osborne missed out on the win by one point.
Teammate Jose Lara also took on an opponent, Francisco Vasquez out of East Valley. Like Osborne, Lara took it the distance and lost by decision after a good fight.
The Golden Cobra team is preparing for a fight in Prescott Valley on May 3 and then a team will be traveling to Sand Diego on May 17 for another contest.
More like this story