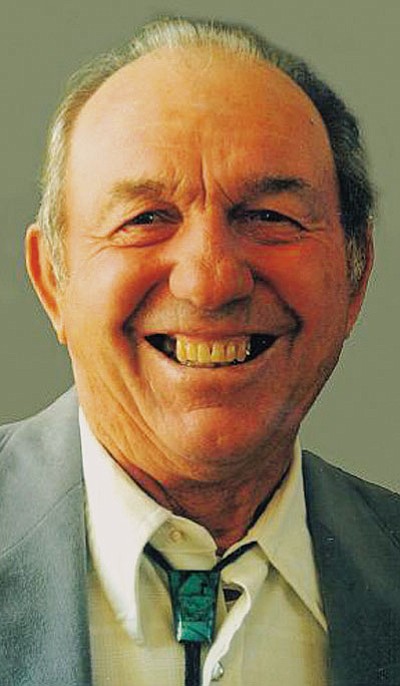 Originally Published: April 22, 2008 2:40 p.m.
John Kovacovich, 84, of Cornville and life-long resident of the Verde Valley, died at Sedona Winds on Friday, April 18, 2008. He was the son of Nick and Manda (Balen) Kovacovich and was born in Middle Verde on January 6, 1924.
John was a World War II Navy veteran, serving as an aviation ordnance man in the Pacific Theater of War. He was a charter member of the Camp Verde Cavalry as well as, a board member of the Verde Valley Water Users. Professionally, John was self-employed as a heavy equipment operator.
John also enjoyed dancing.
He leaves behind his wife of 40 years, Mary "Meg" Kovacovich; he was the father of four children and five step-children, Steve Wedgworth, Bob Wedgworth, Walt Kovacovich, Grace Neal, Ann Wedgworth, Betty Kovacovich, Martha Wedgworth, Jane Crummett, and Jeanne Kovacovich; he was the grandfather of five, and great-grandfather of three. John is also survived by his brother, George Kovacovich; and his sister, Rosey Lacy.
A Memorial Mass will be at the Immaculate Conception Catholic Church, where John was a member, on Saturday, April 26, at 10 a.m. In lieu of flowers, please make donations in his name to the Immaculate Conception Catholic Church-Building Fund, 700 N. Bill Gray Road, Cottonwood AZ 86326.
An online guestbook is available at www.westcottfuneralhome.com.
More like this story