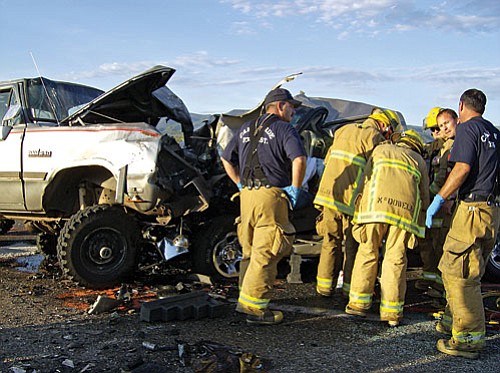 Originally Published: August 12, 2008 4:04 p.m.
A head-on high-speed collision between two pickup trucks in Camp Verde Monday morning left a Cottonwood man dead. Two others were flown to regional hospitals in Flagstaff and Phoenix.
The Camp Verde Marshal's Office says the accident occurred shortly before 5 a.m. near milepost 214.5 on State Route 260, about two miles east of the Interstate.
Two Cottonwood residents were in the first vehicle that was eastbound on the highway. The driver Juan Magana, 20, reportedly crossed the centerline and struck the second pickup head-on in the westbound lane. The westbound truck was driven by Dan Zellner, 23, of Camp Verde.
Zeller and Jon Sena, 22, a passenger in the Magana truck were flown to trauma hospitals. Zellner was flown to Flagstaff by medical helicopter. Sena was airlifted to John C. Lincoln hospital in North Phoenix.
Magana was dead at the scene.
Traffic detoured onto Old Highway 279. SR 260 was closed for approximately 3 hours to allow for extrication of the deceased and investigation of the accident. Camp Verde Marshal's Office deputies are investigating the incident.