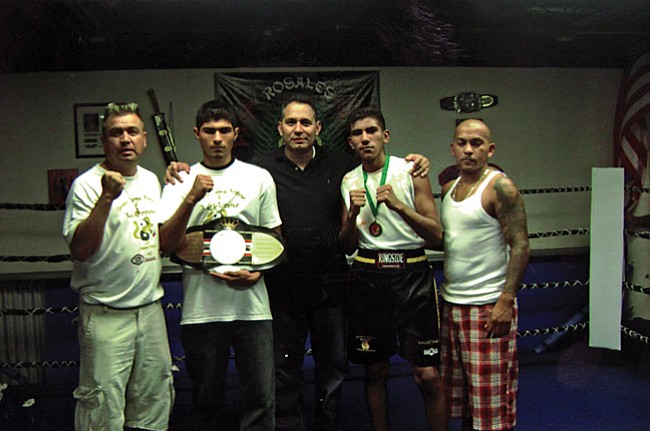 Originally Published: August 12, 2008 1:37 p.m.
The Golden Cobra Kickboxing Club of Camp Verde traveled to Albuquerque, NM and competed in the Rosales Boxing and Kickboxing Smoker on Aug. 9.
Two fighters competed from Golden Cobra. The first was Victor Romero who fought for and won a NM State kickboxing title against Manual Ortiz from FIT/NHB from Albuquerque.
The fight was scheduled for five rounds but was stopped in the second round when Romero TKO'd his opponent.
"This fighter brings with him some amazing, natural talent and combined with his disciplined teaching and techniques from Golden Cobra, he shows incredible promise to be a continual champion," said Richard Williams, trainer and owner of Golden Cobra.
Romero has been asked to fight for a Rocky Mountain Bad Boy title on Sept. 26 in Denver, CO.
The second fighter, Santiago Lomeli fought in his debut boxing match. His performance and technique was outstanding according to Williams, considering that his opponent out-matched him in age by four years.
"Golden Cobra was proud to see him go the distance and use his training to keep up with an older fighter, which demonstrates quality training," said Williams. "That can't be dismissed, even when a loss happens."
The Golden Cobra club just opened its Cottonwood gym at the Boys and Girls Club in Old Town Cottonwood. For more information about classes for men, women and children, contact Richard Williams at 928-300-0281.
More like this story