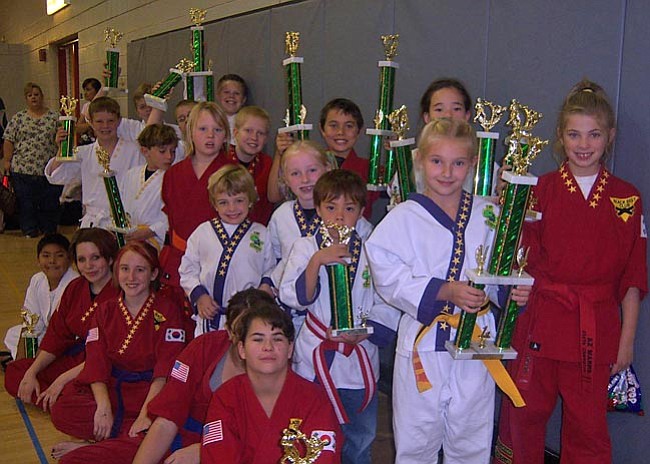 Originally Published: December 2, 2008 2:25 p.m.
A total of 21 martial arts students from KC's Family Tae Kwon Do & Tumbling competed in the final tournament of the AZMARRS Circuit season on Saturday, Nov. 15 in Mesa.
The Desert Storm Open Martial Arts Tournament was the largest event of the year boasting more than 250 competitors and is the last competition before the State Championship in January.
The team returned home from the tournament with 12 first places, 10 second places, 15 thirds and six 4th place finishes among the group. Students compete in forms, weapons and sparring, according to age and level of experience - beginner through black belt.
"Last season, other than our black belt staff members, we only had beginners competing. This season we have students in beginner, intermediate and advanced divisions and we are really proud that they are placing just as high," said Head Instructor and Owner of the school, Karen Conover.
One 10-year-old student, Luke Jonas really swept the competition. He entered every division available for his intermediate belt and he won 1st Place in each; one for forms, weapons forms, musical forms and sparring.
"His divisions were the most packed, with more than 10-12 competitors in each. While he easily dominated in forms, Luke's sparring was a tough-won battle for first. When it seemed as if the boy in his last match was going to come back and take away Luke's win, he totally stepped it up and got that last point. It was really exciting," said Conover.
Jonas will go on to compete at the State Championships in January with a few dozen of his KC's Family Tae Kwon Do fellow students.
The AZMARRS State Championship will be held in Phoenix on Jan. 24 and is an Invitational Tournament.
One year ago, KC's returned from the State Championships with 11 competitors winning 15 Titles in only the school's first competition year. With more than 20 people headed to the Championships this year, KC's is hoping to top that. Competitors must be ranked in the top five in the State of Arizona to attend the Championship Tournament next month.
The school currently has 13 people ranked No. 1 in Arizona. This year's final qualifying rankings have not yet been posted, but Conover anticipates at least 20 will qualify from the school and maybe as many as 28 will be attending State in January.
Conover went on to say that tae kwon do competition is about building confidence in the students. In all its facets, the sport is not about aggression, but in learning self-discipline, building confidence, learning defensive skills, making good choices and healthy living. KC's Family Tae Kwon Do specializes in teaching children and families and its curriculum centers on honesty, respect, and friendship. Anyone ages four through adult who is interested in learning martial arts, or just in having fun and getting in shape, can stop by to observe classes or call (928) 554-0140 for more information.