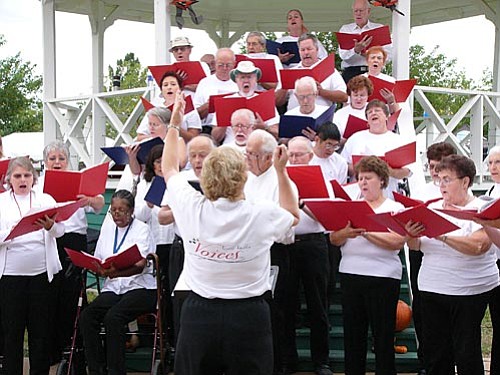 Originally Published: December 8, 2008 11:41 a.m.
The holiday season is quickly approaching and the Verde Valley Voices have been practicing since September to put its annual holiday concert together.
Music director Beverly Hall has selected a wonderful program that will appeal to a wide variety of musical tastes.
The program this year is built around the theme of a journey, a holiday journey of sorts from childhood through to adulthood. As children we have all experienced the joyous anticipation of Santa Claus and the gifts we may receive. As adults, hopefully we arrive at that place where we can just relax and enjoy the company of friends and family and the opportunity that the holidays afford us to nurture those very special people in our lives.
Some families center their celebrations around the religious or spiritual aspects of the holiday season, and some may choose to just enjoy time spent together having fun or visiting with relatives and friends during a special time of year. However you celebrate, the Verde Valley Voices hope that you will consider including the annual Holiday Concert in your plans.
This year in addition to the 80 voices of the chorus, the Cottonwood Community Band will perform before the show for your listening pleasure. Later, a brass quartet and a percussionist will accompany the chorus as they perform A Christmas Gloria a wonderful setting by Lloyd Larson of three traditional and beloved Christmas carols Hark! The Herald Angels Sing, O Little Town of Bethlehem and Angels We Have Heard On High. The band will also accompany them as they perform the Hallelujah Chorus from The Messiah by George Frederic Handel. This has become a tradition and is always the highlight of the concert.
The concert will include some wonderful holiday favorites Winter Wonderland, It's Beginning to Look Like Christmas and the Happy Holiday Medley which will include Happy Holiday, There's No Place Like Home for the Holidays and I'll Be Home for Christmas.
A few years ago they included a children's chorus in the program. They had so much fun with them; they decided to do it again. This year, the Cottonwood Elementary Lobo Pups Choir, under the direction of Karen Steele will perform two selections with VVV, Rudolph the Red-Nosed Reindeer, music and lyrics by Johnny Marks and arranged by Mac Huff, and a wonderful arrangement of the Shaker hymn Simple Gifts for Christmas with additional words and music by Greg Gilpin. They are really looking forward to performing with this group of young people from the third, fourth and fifth grades and adding another 35 to 40 voices to our sound.
Other selections will include a wonderful jazz arrangement by Dave Brubeck of We Three Kings, a funky fun piece called Cold and Fugue Season arranged by Ellen Foncannon but is actually a parody of J.S. Bach's Fugue in G minor, Velvet Shoes by Douglas E. Wagner and What Sweeter Music by John Rutter.
The Verde Voices are blessed with some truly talented individuals, Julie Smith a long time member and music teacher has shared with us two of her very own compositions Christmas As A Child Which will be performed by the women of the Verde Valley Voices, and the second piece called Humbug Blues which will be performed by the men.
Over the past several years, they have chosen to end their concerts with the song Let There Be Peace On Earth. As we go forth in our own personal journeys many of us wish to find peace in our lives, this song expresses those sentiments for the world. Each time they sing it, this piece becomes more stirring and poignant, and once again they dedicate this song to those who may have family members serving in the armed forces. To those individuals serving they send them their eternal gratitude, their wishes for a peaceful holiday season, and hope for a final resolution to the conflicts around the world.
So mark your calendars and plan on joining the Verde Valley Voices for a very special holiday celebration on Dec. 13 at the Dr. Daniel Bright Elementary School in Cottonwood. This year, they will have two performances the first at 3 p.m. and the second at 7 p.m. Tickets are $10 each or three tickets for $25. Tickets may be purchased from chorus members or at Verde Floral in Old Town Cottonwood.
More like this story