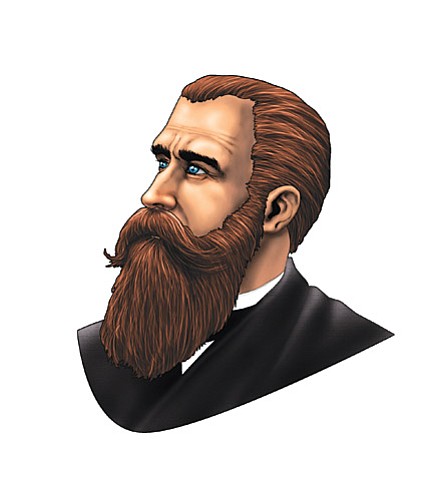 Originally Published: December 30, 2008 4:35 p.m.
In early February 1865, 19 men left east out of Prescott, headed for the Verde Valley.
With six wagonloads of barley, wheat and corn seed, tools for clearing the land and cutting irrigation ditches, and a host of farming implements, the men were out to prove they could establish a farming community in the middle of Indian country.
Their friends and associates labeled the scheme "impracticable" and their leaders as "hot-headed boys." They predicted all 19 would be dead or back in Prescott by April.
To some extent their friends and associates were right. Some in the party came back. But none died, at least not the first year, and the modern-day communities of Camp Verde, Cottonwood, Sedona and Jerome are proof of their ultimate success.
In later years, one of the group's leaders, James Swetnam, would write an account of the hardships endured by those who stayed, those who ultimately left and those who passed through the Verde Valley in the spring and summer of 1865.
His account contains the names of 12 of the original 19 and eight of those who would arrive later that first year.
However, little is known of their lives before or after 1865.
Some, like Clayton Ralston, Henry D. Morse, Jake Ramstein, Thomas Ruff, James Parrish, James Robinson, Mac Foster, John Lang, Charles Yates, John A. Culbertson and a man named "Elliot" from Texas with a wife and four or five kids, are known by exploits in Swetnam's account or in name only.
A handful, however, would leave a record of their travels.
Two would rise to prominence. One would be best known by the accomplishment of his family. A married couple would be known for their lives in Prescott. One would resurface in a newspaper account 26 years later. And one would leave a mysterious footnote for the history books.
James Manoah Swetnam
James Swetnam was born in Kentucky on Nov. 11, 1841. He came west during the Pike's Peak gold rush, driving a team of oxen from the Missouri River to the Rocky Mountains. He drifted through New Mexico and old Mexico before coming to Arizona via Colorado.
He arrived in Prescott with his uncle John P. Osborn and cousin William Lewis Osborn as part of the Wells-Osborn party, on July 6, 1864. His mother Rebecca was John Osborn's sister.
As one of the leaders of the Verde Valley settlement party (some call it the Swetnam Party), he was instrumental in its success.
When a dispute broke out as to where the settlement should be located, Swetnam insisted that it be on Clear Creek, because of the certainty with which an irrigation ditch could be dug from the creek.
His party of 10 survived. The party of nine that settled upstream on the Verde River failed because of the difficulty in building a ditch from the river.
But Swetnam did not stay long. In early 1866, he returned to Colorado, where he began training as a doctor. He eventually received a medical degree from the University of Michigan, graduating in March 1870.
He practiced medicine in Kentucky for a year and Missouri for 10 years. While living in Kirksville, Mo., he started two newspapers and a literary publication. He eventually moved to Omaha, Neb., before retiring to Phoenix. He married three times.
William Lewis Osborn
Little is known of William Osborn's life. However, several family members became prominent as Arizona grew from a territory to statehood.
After building Prescott's first hotel, the Osborn Hotel, his father John Preston Osborn also built a ranching business.
William managed several head of his father's cattle while in the Verde, losing most of them to the Yavapai and Apache who regularly raided the herd.
William eventually left the Verde Valley, moving to Phoenix with his sister Louisa and brother-in-law in 1869. His father came the next year and was instrumental in laying out the city. Osborn Road in Phoenix is named for him.
His brother-in-law John Alsap served as Arizona's first territorial treasurer, a legislator, district attorney and as a judge.
His nephew, Sidney P. Osborn, served a governor of Arizona from 1940 to 1948, the only Arizona governor elected to four consecutive terms (he failed the first three times).
James Monroe Sanford
James Sanford arrived in the Verde Valley in March 1865 at age 43. He had come to Arizona in the winter of 1861-62 from Sacramento.
He is credited with building the first ferryboat on the Colorado River at Fort Mohave, and eventually started a farm on Cottonwood Island.
Ironically, he left the Colorado River in 1865 because the Indians constantly raided his farm. The same problem would plague him in the Verde.
After a year in the Verde Valley he moved to Prescott and opened the city's first sawmill. In his 24 years in Prescott he acquired numerous parcels of real estate (93 lots) and "attained considerable popularity as a nurse."
He eventually moved to Williams where he engaged in ranching and real estate (purchasing another 28.5 lots). In 1882 he was appointed a justice of the peace in Yavapai County and was re-elected six times.
He never married.
Ed and Lois Boblett
Ed and Lois Boblett came to Prescott in 1864 from Colorado. Ed was a member of the first group of nine that came to survey the Verde Valley in January 1865.
He came back with the first settlement party in February. His wife Lois and her parents Mr. and Mrs. Whitcom(b) joined him in March.
Boblett and his wife apparently left at the end of 1865 or in early 1866. They are credited with opening the first restaurant in Prescott upon their return.
According to newspaper accounts, the restaurant was built of pine and juniper saplings and covered with burlap or canvas. It had a fireplace and was furnished with tables and benches hand hewn by Boblett from pine logs. The $1 meals typically consisted of bacon, bread and venison.
The Boblett's restaurant sat on what is today Prescott's Courthouse Plaza.
Ed Boblett was a first cousin to Yavapai County historian Sharlot Hall's mother, Adeline Boblett Hall.
Ed and Lois moved to Washington State in the late 1870s, and that is where Ed died in 1903.
Joseph Melvin
Little is known of Melvin. However, his name appears in an article from July 1891 in the Weekly Arizona Journal Miner and identifies him as a resident of Camp Verde.
According to the notice in the paper he was in Prescott settling a legal matter in which he was awarded $1,500 by the court.
Polk James
If there is one true mystery of the original settlement party it is the identity of a young man named Polk James.
Swetnam's account of the first year, as published in A Historical and Biographical Record of The State of Arizona in 1896, tells of the exploits of James during a couple of Indian fights in the summer of 1865.
The book describes James as "a rather mysterious young fellow claiming to be from Texas, who had been with them not more than a couple of months, and as brave as a lion."
In historian James McClintock's three-volume history of Arizona, McClintock adds to Swetnam's account the following: "James, the sturdy young fellow who battled with Swetnam against the Apaches, by the latter is believed to have been none other than the redoubtable Frank James, the Missouri outlaw."
It is doubtful that Polk James was Frank James. Frank James surrendered to Union authorities on July 27, 1865, in Kentucky about the same day Polk James was fighting Apache raiders in the Verde Valley.
Who Polk James really was remains a mystery. Like so many of the Valley's early settlers and sojourners, he disappeared off the pages of history as quickly as he appeared.