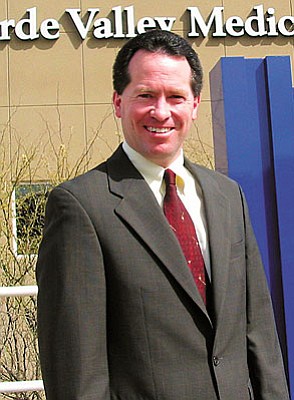 Originally Published: January 24, 2008 4:42 p.m.
Verde Valley Medical Center Board Members won't talk, but Jim Sinek is no longer president of the hospital. VVMC says a national search has begun to replace him and a temporary administrator has been appointed during the interim.
"We are thankful for Jim's years of service to the hospital and the community and we wish him the best possible future," said Alan Everett, chairman of the board.
Sinek, speaking from his Cottonwood home, said it was a "very amicable parting. I can't say enough about the hospital. I really loved my time there. They were very professional. It is a good opportunity for them and a good opportunity for me," he said.
Sinek also mentioned that there is a confidentiality agreement in place.
Sinek had been with VVMC for five years.
Jack Demsey has been named "interim administrator to oversee hospital operations" during the search for a permanent president.
Demsey is an executive vice president of Northern Arizona Healthcare, the parent organization of VVMC.
Demsey joined NAH in 1999 and has served as the organization's compliance officer, HIPAA privacy and security officer and executive information officer. He has lived in Northern Arizona for 31 years and is now a resident of Cornville.
"Jack brings with him a wealth of experience, knowledge of hospital operations and is very familiar with the communities VVMC serves," said James Puffenberger, president/CEO of NAH.