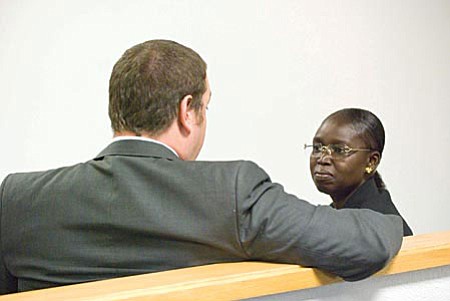 Originally Published: May 16, 2008 5:12 p.m.
A jury of five women and three men Friday found Dibor Roberts guilty of two felonies, resisting arrest and unlawful flight. But, her sentence was light, a total of six months unsupervised probation for the two offenses.
"This is flat out the lightest sentence I have ever seen for a Class-5 felony, period." That was the reaction of Roberts' attorney, Stephen Renard.
Judge Michael Bluff reduced the charge of resisting arrest from a Class-6 felony to a Class-1 misdemeanor. She was credited for four days of jail time already served.
The sentence Friday afternoon followed a three-day trial in which Roberts challenged the testimony of Sgt. Jeff Newnum of the Yavapai County Sheriff's Office.
The jury deliberated for less than one hour before returning the two guilty verdicts.
The Verde Valley case of the small nationalized West African nurse's aide who ran afoul of a sheriff's officer on a rural road late one night has become a case that has been followed intently by the press and read voraciously by the public.
The officer, Sgt. Jeff Newnum, turned on his overhead lights after he reportedly clocked her car traveling 65 mph on the 50 mph Beaverhead Flat Road.
He told the court he expected the Sentra to pull over at the junction with Cornville Road, but it turned west. Newnum said he then used his siren and twice pulled to the side of the small car with his much larger Ford Explorer. When the black woman would not stop, he pulled in front of the car until it stopped in the traffic lane.
When Roberts would not open her door, Newnum smashed her rear window with a police baton cutting his hand in the process. He opened the door and removed Roberts from the car and handcuffed her. The small car ran over his foot as the woman was "flailing" inside.
Roberts told the court how she yelled at the officer that she wanted to get to a well-lighted place. A witness, who was parked along the road using his cell phone, said she repeated that mantra over and over as the officer was trying to question her.
Prosecutor Glen Hammond portrayed the 12-year officer as a cop who operates by the book and has widespread experience in emergency and violent situations.
Roberts, on the other hand, was the picture of a small woman who was frightened. She had talked with her husband about reports of police impersonators in the Phoenix area and was told to find a lighted area in the public if ever asked to pull over.
Newnum said he would even tell his wife to do the same thing, signal her intention and then move to a lighted area.
But, Newnum and Roberts did not communicate on that late July night.
That message rang loud and clear for many women who followed the trial and protested outside courtrooms, first in Prescott and then in the Verde Valley when the case was returned to Camp Verde.
Roberts told the Verde Independent after the jury decision that she was not surprised. "No, it is politics," she said in her thick African-accented English. "I am a woman, a black African. I am too small. They are too big. The people that were here, they listened, they know what was right and what is wrong."
Her husband, Merrill, a photographer who has championed her cause and fanned the flames of public support, was disappointed in the verdict. "It tells me something about our criminal justice system. I don't think it is so much about having a jury of your peers, but who is on your jury. They don't think the same thing could happen to them."
Hammond voiced a message from Sgt. Newnum at the sentencing: "All he wanted from the very beginning was an apology and left it up to the County Attorney what to do with this case. It was a misunderstanding. It has been really tough on him and his family due to a lot of press, a lot of hate mail. He has been called a racist. Nothing could be further from the truth. He just wants everyone to move forward and let the healing begin."
More like this story