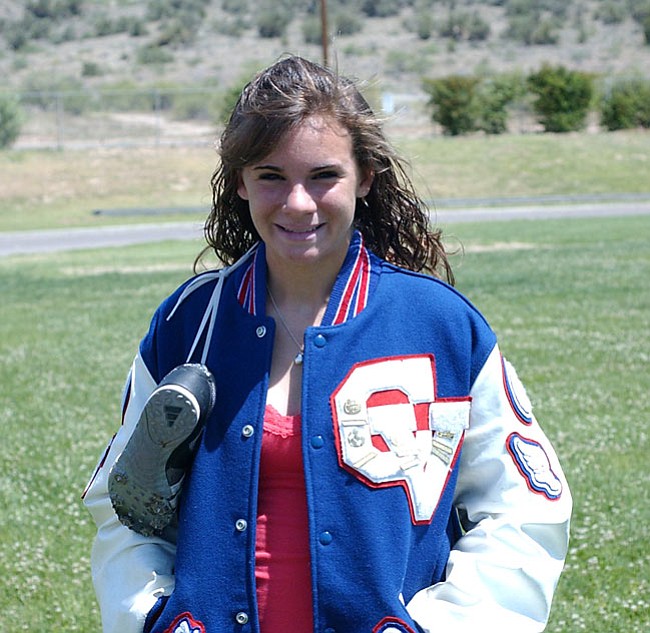 Originally Published: May 27, 2008 1:30 p.m.
Paging Dr. Regan. Jessica Regan, this year's Camp Verde High School Female Student-Athlete of the Year wants to be a doctor ... and she's well on her way to success. In the four years she has been at Camp Verde High School she has participated in four sports, numerous clubs and activities and ended with a 4.132 GPA.
Regan began her freshman year at Camp Verde playing volleyball, basketball and track. After two years of that, she switched it up a bit and traded in her volleyball knee pads for chin guards and joined the varsity girls soccer team while she continued to compete in basketball and track.
"I started to miss soccer and a lot of my friends were on the team," said Regan. So, she made the switch. "I liked that we were a goofy team at tournaments." Regan got 2nd team All Region honors her junior year and then improved to receive 1st team All Region honors her senior year.
Regan began playing basketball in the 5th grade. She continued to play and was part of the Cowboys team that went to the State Championship game in the 06-07 season.
"My favorite part of basketball was the whole experience of the state playoffs junior year," said Regan.
Regan played volleyball at Beaver Creek Middle School along with club soccer. She continued to play volleyball in high school, on JV her freshman year and on varsity her sophomore year, but soccer was tempting her and in the beginning of her junior year, she transferred over to the varsity soccer team.
In middle school Regan also played softball, but switched to track where she found the sport she enjoyed the best.
Regan participated in track all four years in high school.
"I like track the best overall," said Regan. "I connected with it the most and found the most success. You tend to like what you're good at."
Regan ran the 800, 1600 and 3200-meter races during the season as well as the 4x800 relay team, which finished No. 2 at State. Individually she finished fifth overall in the 3200-meter run at State in 12:56.53 for four points. She also finished ninth in the 800-meter in 2:34.72 at State this year.
This year she received a coach's award from coach Lori Showers, the High Point Award for scoring the most individual points during the season for the track team.
As for Regan's future plans. She originally thought she'd go out of state for college, but after seeing how much that costs, she changed her plans and is now going to attend the University of Arizona in Tucson. She isn't going to pursue any college sports as she wants to focus on her studies. She plans on attending the Medical School there and eventually become a doctor. "I've always been interested in the health field," said Regan.
Regan received academic scholarships to cover her tuition, books and housing. She also was one of the first three recipients to be awarded a scholarship from the Matt Showers Scholarship fund in the amount of $400.
She has had great encouragement to do well from her coaches Mark Showers and Mary Taylor as well as teammates and family.
"I got to run with Amy Showers and that helped spark the desire to succeed," said Regan. "My parents have always pushed me. They recognized my ability to pick up academics and then I took over with it and made goals. I made sure my grades stayed up."
Along with her studies and athletics, Regan participated in the Student Council for four years, Key Club for three years, which included sitting as president her senior year. She was involved with the Fellowship Christian Team all four years and was part of the National Honor Society and Big Brothers/Big Sisters for three years.
Her hobbies include reading and running.
"What I will miss most about high school is the athletics, I've had the most fun working hard and having it pay off," said Regan. "I'll miss bonding with my teammates."
More like this story