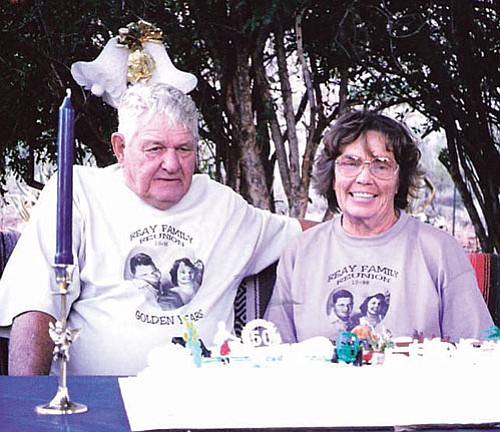 Originally Published: October 4, 2008 8:41 p.m.
On Thursday, October 23, 2008, Newton and Rosemary Nay Reay will celebrate their 60th wedding anniversary.
The couple met in Phoenix at a church picnic and were married at Newton's family home. They quickly began their family and exactly a year later on Oct. 23, 1949, their first son, John was born. Three more children followed, Linda, Cindy and Elizabeth, with their 5th child, Jim, being born in Winkleman, Arizona, where Newton was raised as a child.
In 1961 the family moved to Flagstaff where their 6th child, Rob, was born. They moved to a ranch on Beaver Creek in 1967 where their 7th child, a son Joe, was born in 1968 and their 8th and final child, Kathy, was born in 1969, both at Marcus J. Lawrence Hospital in Cottonwood.
Newton was instrumental in the groundwork and landscaping of the gym at Beaver Creek School. The School Board officially named the building "The Newton Reay Building" on Dec. 18, 1980. Principal, Steve Hudson, awarded Newton the honor.
In 1977 Rosemary began to work at the School as a bus driver and continued to work there until she retired in 1998. Also in 1977, she joined the Montezuma -Rimrock Fire Department as and EMT and IEMT, retiring in 1998.
After owning/operating Rimrock Landscaping and Materials for several years, Newt and Rosemary decided that the Verde Valley had grown too much for them and moved to the Buckhorn Ranch near Wickenburg.
After losing 90 percent of their calf crop to mountain lions, they briefly moved back to the Verde, and finally settled down on Trout Creek Ranch near Wikieup. They now raise beef cattle and farm alfalfa hay.
Newton and Rosemary have eight children, 28 grandchildren, 35 great-grandchildren and one great-great-grandchild.
A celebration of their anniversary will be held at the Beaver Creek School Gym, respectively named "The Newton Reay Building", on Saturday, Oct. 11 from 1 to 6 p.m. A dance will be held afterwards at the home of Joe and Tracy Reay located at 5295 Dave Wingfield Road in Rimrock. Music will be provided by Robbie Reay. Any friends and family are warmly invited to attend.
More like this story