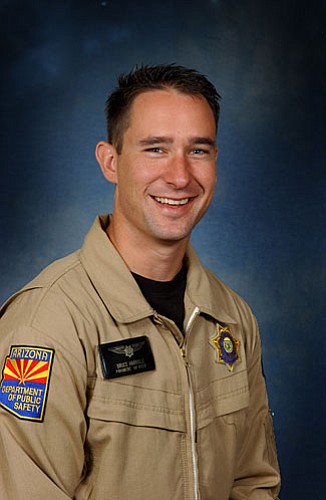 Originally Published: October 14, 2008 3:47 p.m.
At about 3:18 p.m. Monday afternoon, Arizona Department of Public Safety Officer/Air Rescue Paramedic Bruce W. Harrolle was killed while performing a rescue of two stranded hikers 1.5 miles northwest of Doe Mountain and 1.5 miles southeast of Bear Mountain west of Sedona.
The incident occurred after the DPS Ranger helicopter based in Flagstaff responded to a request from the Sedona Fire Department and the Yavapai County Sheriff's Office to assist with a search and rescue of two stranded and dehydrated hikers.
Harrolle and a pilot were aboard the helicopter.
"While they were performing the rescue, they were able to get the male subject into the helicopter," according to DPS Lt. James Warriner. "While trying to put the female patient into the helicopter, something happened that caused the paramedic to get struck by a rotor blade, resulting in his death."
Warriner said the pilot was able to go ahead with the rescue and get the stranded hikers off the mountain.
Mountain rescues are very dangerous, Warriner said, "because typically they're working off one skid or both skids or just barely on the rocks or wherever they decide to move."
The DPS Special Investigations Unit is investigating the aviation accident. The National Traffic Safety Board (NTSB) will conduct their investigation as well.
Officer Harrolle, 36, was a nine-year veteran of DPS and is survived by his wife, two young children and his parents.
Prior to the Sedona incident, DPS had not lost an officer in the line of duty since March of 2000.
See Officer Harrolle's biography
Biography - Bruce W. Harrolle (1972 - 2008)
More like this story