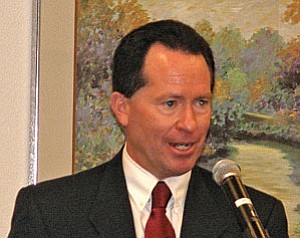 Originally Published: October 28, 2008 2:29 p.m.
Former Verde Valley Medical Center President James Sinek has accepted a position as president and chief operating officer of a Nebraska regional hospital.
The position was offered last Friday by Faith Regional Health Services in Norfolk, Neb., after a recruiting firm conducted a nationwide search for the medical facility.
In January, VVMC terminated Sinek's contract after five years, which Sinek described as an "amicable parting." Jack Demsey remains the interim president.
Faith Regional is a 166-bed acute care facility. The hospital group has four campuses and serves a population of 100,000 over 75 miles. Norfolk is located 113 miles west of Omaha.
More like this story