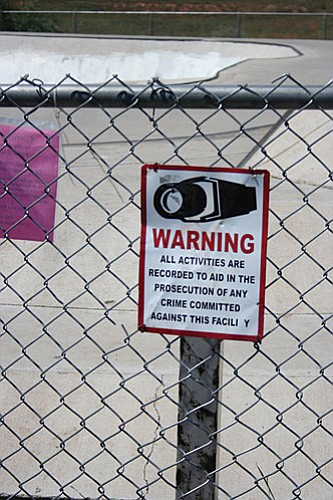 Originally Published: September 4, 2008 4:22 p.m.
Anyone involved with the building of Camp Verde Heritage Skate Park would not want to know what it has become.
In 1997, a group of Camp Verde High School students formed the Banana Havoc Skate Club with the intention of creating a place where they could carve the half pipe and Ollie to their heart's content.
The club members worked with Parks and Recreation, Kiwanis, Town Council, the school district and the business community.
They talked the Town into submitting for a Heritage grant, lottery money set aside for community projects.
They scored $24,962.
They drew it up, talked local contractors into contributing time and materials, and then spent their days working side by side with the crews that built it.
Their success was cast in stone.
But even stone is subject to time and neglect.
Banana Havoc went its separate ways. Over time a group of slackers and posers took over. The skate park was vandalized -- more than once.
Smoking, drugs, and indifference took the place of good times, hard skating and persistence.
And now the world outside the skate park gates has told the Town it doesn't like what it sees on the inside.
"We have received complaints about the conduct of the kids using the skate park, mostly the use of bicycles, smoking and profanity," says Parks and Recreation Director Lynda Moore, "The kids who built the park had pride in it. It seems some of those who inherited it don't."
This Monday, Sept. 8 at 6:30 p.m., in Room 207 at the Community Center, Moore and the Camp Verde Parks and Recreation Commission will conduct a public meeting in an attempt to resolve the complaints and find permanent solutions to the parks other problems.
She says that if no solution can be found the park faces permanent closure.
"These kids who use it, and their parents, need to understand that we have issues of liability and legal restrictions that may leave us no choice but to close it down," Moore says. "Right now what we need their involvement if they don't want that to happen."
More like this story