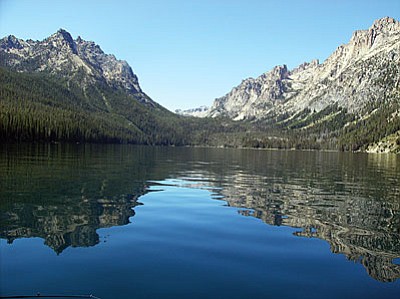 Originally Published: September 4, 2008 7:27 p.m.
Few places are so appropriately named as Idaho's Sawtooth Wilderness.
The glacier-grooved Sawtooths in north-central Idaho are as viciously carved as any mountain range you'll ever see. For two years running now, the Sawtooths have served as the summer retreat for my wife and me.
This year's trip included a stop-over in Patty's first hometown in Twin Falls. It took a little persistence and back-tracking based on the location of Harrison Elementary School, but we even found her childhood home on Borah Avenue.
But the highlight of any trip to Twin Falls involves an up-close-and-personal look at the magnificent Snake River and Shoshone Falls. And it's there that you discover the truth in the old saying that "it's a small world."
Shoshone Falls is heralded as "the Niagara Falls of the West." The comparison falls considerably short horizontally despite its terraced thousand-foot span, but Shoshone's vertical descent falls 212 feet to the canyon floor, which is 50 feet farther than Niagara Falls.
But here is what really captured my attention. The brochure I obtained upon entering the park gave a historical synopsis of how Shoshone Falls became such a tourist attraction. In 1883, William A. Clark of Montana and two other investors bought the property. They invested $50,000 in roads and infrastructure. They established a ferry and built a two-story hotel.
Sound familiar? It's the same William A. Clark who would later become a U.S. senator representing Montana. And some 35 years after developing Shoshone Falls as a tourist attraction, Clark owned 97 percent of the United Verde Mining Company in Jerome and founded the town of Clarkdale.
Small world, indeed.
From Twin Falls, we headed north to Redfish Lake, so named because of the annual 900-mile migration of salmon to their original spawning grounds that the lake actually takes on a reddish hue. I've never actually witnessed the lake turning red, but the rivers leading into the lake are chock full with bright red salmon.
It's not just the bounty of trout and salmon that make the Sawtooths so alluring. One morning I was sitting on the porch of our rented cabin playing my guitar. Suddenly, to my surprise, two white-tailed deer were standing just 15 feet in front of me seemingly mesmerized.
I'd like to think I lured them in with some smooth, soothing jazz licks, but more than likely it was the thick grass that brought them so close. Either way, those two deer represented an audience much more captive than anything to which I am accustomed. Normally, folks run for cover when I pull out my guitar.
And from the category of biting off more than you can chew ...
The fishing at Redfish was not nearly so productive this year as it was in 2007. So, I pulled out my trusty old wilderness trail map and set my sights on a hike to Marshall Lake, accessible only by foot or horse. It became obvious several miles into my journey that most folks who are so ambitious do it from the mount of a horse. The signs were obvious, both on the trail and on the bottom of my hiking shoes.
The fishing (always catch and release), though, was well worth the trip. So much so that time got away from us before we realized that we had a several-hours long hike to make. It would soon be dark, and this is bear country. Fortunately, the daylight held out on our fast-track downhill return trip.
Lord knows I needed the exercise and I intend on being in much better shape before my next trip to the Sawtooths.
I'm going to be in such great shape that I won't even be out of breath after I hike my way to the riding stables to rent me a strong, sturdy horse.
More like this story