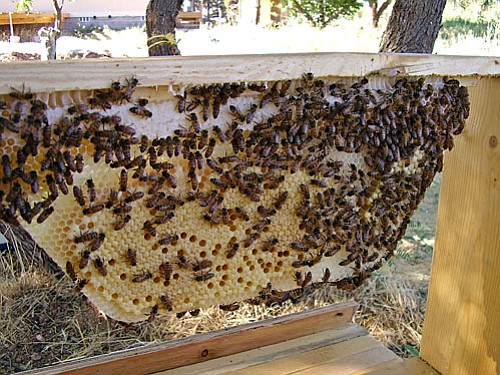 Originally Published: September 9, 2008 3:08 p.m.
Bees and honey are a primal thing. Everyone knows about bees from childhood. Bees have been domesticated throughout recorded time.
Everyone recognizes the connection between children and bees. They are delightful little characters that hover within inches of your nose. At some point, we realize bees can sting and they suddenly become a nuisance. Still, the beehive has become a symbol of industry. It is part of the symbol in the Utah state seal. "Busy as bees" is a common expression.
As people mature, they become cautious of bees because of their potential sting, but by the time they are teenagers, the "birds and bees" become a symbol of adulthood and reproduction.
As we grow older, we are realizing that without bees to pollinate our crops we will have fewer crops.
But who ever heard a child say, "I want to be a beekeeper when I grow up"?
Barry Lay knew he wanted to keep bees all his life, but it's been only during the past five years that he has indulged his passion.
"There are a lot of beekeepers that are more traditional than I am," Lay says.
Everyone has seen the traditional stacked Langstroth hives standing in fields, buzzing with their occupants. Barry uses something called a Top Bar hive, a long horizontal hive with openings to allow bees to enter and exit.
There appear to be beekeepers in most communities, either hobbyists or professionals. Antarctica is the only continent that does not harbor some variety of bees. And there are plenty: 20,000 different species of bees, a variant of the wasp, inhabit the planet. It seems one of those old-world skills would pass from father to son.
That is not necessarily true. Lay got into what he calls a "hobby" after attending a seminar. He says he has always been interested in gardening organically, avoiding pesticides, and eating quality food.
The Bar Top hive is very cheap to build and easy to manage and more of a natural hive. "I was shown I could build one of these easily."
Bees are adapted for feeding on nectar and pollen. Nectar is primarily an energy source, and pollen is used primarily for protein and other nutrients. Most pollen is used as food for larvae.
Arizona is still part of the desert southwest and that puts particular strains on bee populations.
"This has been a pretty good year." By that, he means wet. Bees need plenty of moisture to produce honey but there needs to be enough moisture for flowers to produce nectar and pollen.
"Last year, we didn't have enough. I had to send my bees to a beekeeper in Phoenix," Locy Rogers says. "Bees need 75 to 100 pounds of honey to survive through the winter."
Locy Rogers is the name most Verde Valley agencies call when they need bees removed.
"Water meter boxes have a small hole that bees find and then they begin building a hive inside the meter box. Two summers ago, Cottonwood Water Company gave me 150 addresses where bees built hives in the meter boxes. Most of the time I can put three to four swarms together out of meter boxes."
Rogers has been at it for a long time. He is now approaching 80 years old. Thirty-five years ago, he heard that honey was a good balm for asthmatics. One of his sons had a serious asthma condition, so he began to keep bees.
Now Locy has seven hives near his home along the river in Clarkdale. He collects a lot of bees, but also gives many away. "Last year I gave away 40 to 50 hives, 16 to a guy in Phoenix."
Bees will tend to work all spring and summer making honey until they outgrow a hive and then half of the hive plus a queen will leave to find a new home. That is when a swarm occurs.
Lay got his first bees from Locy.
Some beekeepers, like one in Rimrock have many more hives. Lay says that beekeeper has 1,000 hives spread across Northern and Central Arizona and is more interested in the pollination contracts. "Some beekeepers move their hives as far as from Miami to California," as part of commercial ventures.
Traveling along Interstate 17, motorists may see the bee hives stacked near the roadside in the vicinity of Orme School, in an area where there is still very active agriculture. Those are hives of a Phoenix beekeeper.
The Cowboy Honey Company in Camp Verde is operated by Richard Clark, who keeps about 50 hives.
Locy and Barry say that bees may fly five to seven miles to find food, but they are happier if they don't have to go that far.
Bees will tend to partially hibernate during the winter months, when there is no food. "They cluster into a big ball at night to conserve energy."
Honey weighs about 12 pounds for every gallon. Water on the other hand weighs only about seven to eight pounds per gallon.
The largest swarm Locy ever encountered was about eight inches in diameter and about a foot and a half long. "There was about 15 pounds of bees, figuring 3,000 to 4,000 bees per pound." That is a lot of bees.
Smoke is what is used to calm bees. "After an evening meal, you are contented and full. That is how bees get."
Recently, there has been the profound mystery of disappearing bees. Not dead bees; they suddenly just disappear. It is sometimes called Colony Collapse Disorder, when adult bees leave honey and pollen behind and disappear. Few now believe that cell phones cause the ailment.
But the lack of bees has prompted inadequate pollination and therefore crop loss.
Bees need proper sanitation too. Mites area also a problem. Some believe that is the result of growing larger bees making larger openings in the body of the bee for the mite to infest.
Then there is the issue of Africanized bees, a creation of a South American hybridizer and now the bane of homeowners throughout the south.
The next time a bee invades your space, remember that someone's meal may be depending upon it. Don't swat it away.
More like this story