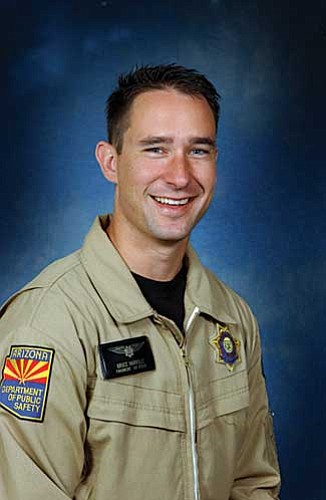 Originally Published: April 4, 2009 4:42 p.m.
The Arizona Highway Patrol Association (AHPA) will pay their respects to the 27 DPS officers who have been killed in the line of duty.
During this years' ceremony, a special part of the program will recognize Officer/Paramedic Bruce W. Harrolle. On Oct. 13, 2008, Harrolle was killed while assisting with a search and rescue mission of two stranded hikers west of Sedona. The DPS Ranger Helicopter, based in Flagstaff, had been called by the Sedona Fire Department and the Yavapai County Sheriff's Office to assist with a search and rescue of the hikers 1.5 miles northwest of Doe Mountain and 1.5 miles southeast of Bear Mountain.
Harrolle and a pilot were aboard the helicopter.
Officer Harrolle was struck by the helicopter's rotor blades and fatally injured. Prior to the Sedona incident, DPS had not lost an officer in the line of duty since March of 2000.
Officer Bruce Harrolle, 36, is survived by his wife, two young children, and parents.
Governor Jan Brewer and DPS Director Roger Vanderpool will speak at the ceremony. This annual memorial not only honors the officers, but also the sacrifices of their families. This ceremony is a reminder of the dangers DPS officers face every day as they protect and serve the State of Arizona.
The Annual AHPA Police Officer Memorial Ceremony is scheduled for Monday, May 4 at 9 a.m. at DPS Headquarters Building, 2102 W. Encanto Blvd., Phoenix.
More like this story