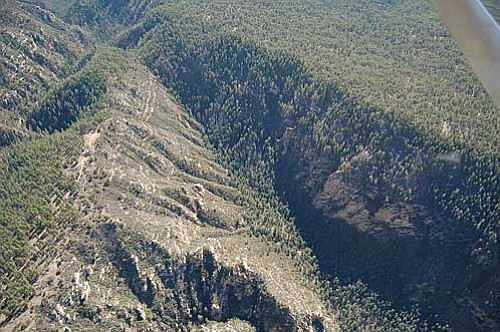 Originally Published: April 26, 2009 4:57 a.m.
SEDONA - While work continues to positively identify two victims of an old plane crash, a key piece of evidence has linked the plane to a missing couple from the Phoenix Valley area.
Friday, searchers unearthed a door from the airplane wreckage at Loy Canyon in the Secret Mountain Wilderness. The tail number needed to identify the plane had yet to be found.
Coconino Sheriff's Detectives used the national aircraft database to run the serial number from a metal plate that at one time was affixed to the door. That number returned to the aircraft registered under tail number (N2700Q). The tail number is that of a small Cessna missing for two and a half years.
The missing plane was piloted by 54-year-old William Westover and carried 43-year-old passenger Marcy Randolph. It flew from the Deer Valley Airport Sept. 24, 2006, on a sightseeing flight and was expected to return the same evening.
A Civil Air Patrol search, based in Cottonwood, was launched the next day, but no sign of the plane was ever found.
Recently, an experienced team of volunteer searchers, the Missing Aircraft Search Team (MAST), began to look for the plane again. The team leader, Chris Killian, was also part of a group that earlier found the wreckage of the adventurer Steve Fossett in Nevada. Marcy Randolph's father Phil credits Killian with locating the clue to the recovery.
Last Saturday, acting on a tip from an old fire report, Phil Randolph and a friend working for the pilot's family hiked into the Secret Canyon Wilderness and photographed what appeared to be the site where the single-engine Cessna carrying Randolph and Westover crashed
From a vantage point on a nearby ridge, Phil Randolph and Jayne McElFresh photographed evidence of a burn that matched the location of a fire reported by hikers just after the plane vanished from radar in 2006. Combined with other facts about the flight, they felt they finally found the crash site. The fire had extinguished itself and was never chased-down by forest crews.
Now, curious after having been interviewed by a search volunteer, the hikers who filed the original fire report hiked back into the site and confirmed that an old air crash was hidden beneath the trees at the crash site. Authorities were notified, and the all-volunteer search planned for later in the week was scuttled.
Coconino County search crews have now recovered the skeletal remains of what are thought to be two victims and have taken the remains to the Medical Examiner's office to attempt to identify them.
More like this story