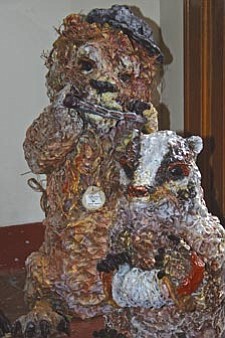 Originally Published: December 15, 2009 5:26 p.m.
JEROME - Buying from local artists during the holiday season is a great way to keep your dollars circulating locally. The artists who sell through the Jerome Artists Cooperative Gallery and the Old Jerome High School all live in the Verde Valley. That means they spend their income here.
These artists also offer shoppers a wide range of artworks and prices.
Throughout Jerome there are more than 20 art galleries offering an amazing selection of art by talented artists. But there are many talented artists in Jerome and the Verde Valley who are not represented by privately owned galleries. There are, however, two places in Jerome, within minutes of each other, where shoppers may see the work of about 40 artists.
The Jerome Artists Cooperative Gallery is located in the historical Jerome Hotel at 502 N. Main St. The Old Jerome High School houses not only art galleries but also some of the artists' studios. It is located on SR 89A coming into town from the Verde Valley.
The Town of Jerome owns the Jerome Artists Cooperative Gallery, and it is managed, manned and maintained by the artist members. The artists show their work, staff the sales desk and set up displays and lighting.
Member, painter Ellen Roberts said each artist puts in between eight hours to 16 hours working in the gallery each month. "If you work less," Ellen said, "you have to pay more rent."
The artists all pay rent based on square footage, plus a 20 percent commission back to the gallery. "We all have a voice in running the gallery," Ellen said. "We have a lot of different prices," she said. "Something for everyone."
Birgitta Lapides sells her mixed media paintings and hand-woven jackets through the cooperative gallery. She agrees that the gallery offers a range of prices. "Everything from $1 up to $1,000."
The cooperative currently has more than 30 artists displaying a huge selection of artworks in just about every artistic medium. Paintings include oil, acrylic, watercolor, pastel and mixed media. Artists also display jewelry, clothing, photographs, drawings, woodwork, ceramics, collage, glass, gourds and found objects.
The cooperative gallery is open daily from 10 a.m. to 6 p.m.
The Old Jerome High School works a little differently than the cooperative does. Artists rent space for studios and galleries in Building A and Building B of the old campus. Because some of the galleries are also studios, visitors may see an artist working on a new piece.
Artists in the Old Jerome High School produce a variety of artworks, including paintings, jewelry and photography.
Janie Layers, has her gallery and studio on the ground floor of Building A. She is a sculptor who now is also offering heavily impasted oil paintings.
Plein-air oil painters Clive Pates and Mark Hemleben each has a gallery and studio on the ground floor of Building A. Both Pates and Hemleben are regionally and nationally known for their landscape paintings.
Because the artists in the Old Jerome High School rent their gallery and studio spaces individually, the hours and days that they are open vary. But, generally, the Old High School is open daily.
More like this story