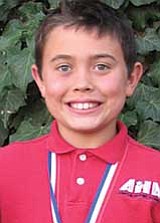 Originally Published: February 3, 2009 3:21 p.m.
Camp Verde fifth grader Kestrel Gorlick is the winner of the inaugural American Heritage Academy spelling bee.
By successfully spelling "portfolio," the 10-year-old earned a medal of excellence, a certificate of achievement, an award from Encyclopedia Britannica and the right to represent his school at the Yavapai County Spelling Bee Feb. 18 at the Franklin Phonetic School, Prescott Valley.
The competition on Jan. 27 pitted 18 classroom winners from grades 3 through 6 at both AHA campuses in Cottonwood and Camp Verde.
More like this story