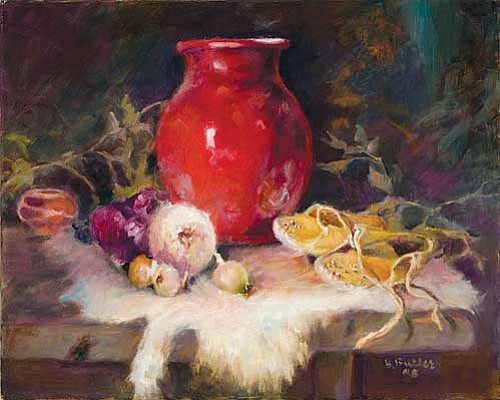 Originally Published: February 3, 2009 8:57 a.m.
THE MANHEIM GALLERY presents 'Plateau and Plains - Oils by Barbara Butler," Feb. 6-28.
Barbara, and her husband, will be at the gallery for an Artist's reception, Saturday, Feb. 7, from 5 to 8 p.m.
Barbara's style is representation, reflecting her training at Minnetonka Art Center and at Hathaway School of Classical Arts in Excelsior, Minn. She moved to Montana 14 years ago, and became a full-time artist. And, there is no doubt, the Montana landscape provided abundant inspiration in the beauty of nature.
Says Barbara, "I can't stand not painting, everything I see becomes a painting in my mind and inspires my canvas." She works primarily with still life, landscapes, horses and wildlife ... and the occasional portrait.
Her exquisite technique gives warmth and life to her subjects yet with subtle drama. Her show in Cottonwood is filled with the soft technique oils for which Barbara has become so well known and features all of her favorite subjects.
"When Barbara and her husband made their first visit to the gallery," says owner Patt Manheim, " I knew that her works would be a valuable addition to the gallery and she was clearly an emerging artist to whom I should give attention. Gallery clients have confirmed my opinion."
Barbara Butler's success has evolved into representation at three Montana galleries as well as The Manheim in Old Town. She is a member of the Billings Artist Association and the Carbon County Arts Guild. She is a juried member of the Oil Painters of America and was recently featured in Peaks and Plains, the official publication of Great Lakes Airlines.
The gallery is located at 747 N. Main St. (corner of Fourth and Main) at the gateway to Old Town Cottonwood. It is open Wednesday-Friday 1-5 p.m. and Saturday 11 a.m.-5 p.m., and by appointment.
The gallery may be reached at (928) 649-0130.
More like this story