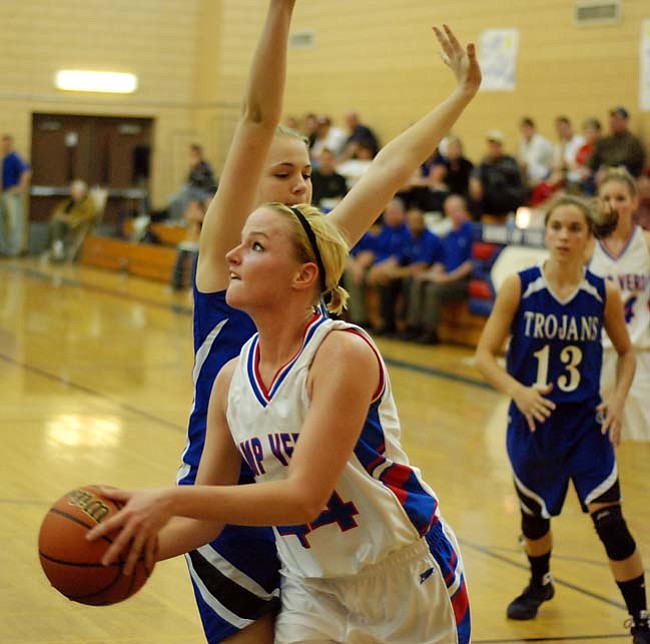 Originally Published: February 12, 2009 2:18 p.m.
The Camp Verde girls had a first round bye and the boys defeated Superior on Wednesday. Both teams will head to Ray High School for the 2A South Regional semifinals today.
Camp Verde girls hoops
The Camp Verde girls basketball team finished up its regular season with a win over North Point Prep on Feb. 6, 52-42.
The Cowboys also celebrated senior night and honored the team's four seniors: Liz Hicks, Jamie Cupp, Cassie Spleiss and Cherreia Reeves. Also honored for her contribution for taking game stats was senior, Amanda Bleak as well as two other players, exchange students Moira Bocangel and Pauline Combaret.
Camp Verde travels to Ray High School today for the semifinal and final rounds of the 2A South Regional Tournament. The Cowboys were able to get some rest from playing in the first round with a bye.
The Cowboys will play their first game at 2:30 p.m. today in the semifinals. If they win, they will play again on Saturday in the Championship game at 2 p.m. A loss in the semifinals will put Camp Verde in the 3rd place game, which is at 11 a.m. on Saturday.
If Camp Verde can finish No. 1 or No. 2 in the region tournament, then they will host a first round State game. If not, then the Cowboys will have to travel.