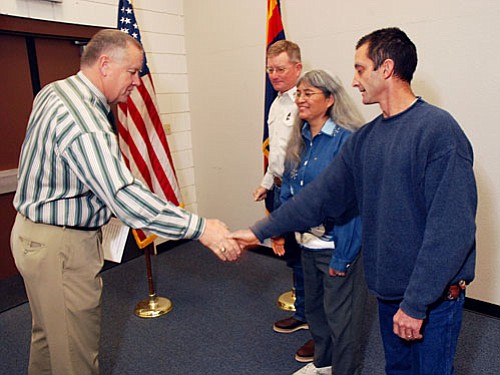 Originally Published: January 10, 2009 6:39 p.m.
With the new members sworn in, one of the biggest tasks for the Camp Verde Unified School Board comes up Tuesday night.
The governing board will consider the contracts of the district's 14 administrators. As proposed, the one-year contracts include 10-day reductions for most administrators, evolving from the budget-cutting sessions. Three administrative positions - CTE coordinator, athletic director and ELL coordinator - are cut only five days. The contract for food services director is unchanged.
Shrinkage of the contracts amounts to almost $30,000.
Newly elected members of the board had insisted that decisions on the contracts be delayed until they took office as they scrutinize amounts and individuals.
Contracts being considered are for July 1, 2009, through June 30, 2010.
Among the contracts is one for Business Manager Montie Morris, who seeks to retire Oct. 1 unless the state Legislature changes the retirement requirements. She has been with the district since 1994.
Also up for approval are the new board's goals for 2009-10.
A sizeable amount of time will be used to train board members in Google documents. The board will also elect a board president, approve the meeting calendar for the year, appoint members to the Valley Academy for Career and Technology, and go over rules of order.
The meeting in the district library begins at 6 p.m. Jan. 13.