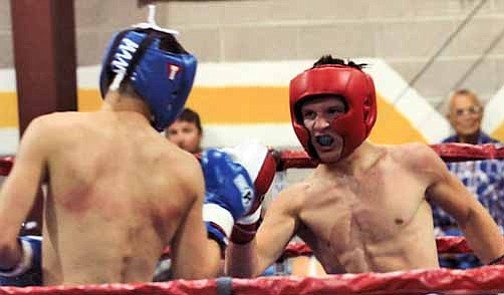 Originally Published: June 25, 2009 1:46 p.m.
CAMP VERDE -- The Ultimate Warrior Battle was a complete success. Local Martial Artists came together on Saturday to raise money and hold an entertaining event at the Yavapai-Apache Middle Verde Gym.
Hosted by the Yavapai-Apache Recreation and Golden Cobra Center of Fitness, martial artists, performers, boxers and kickboxers put on quite a show.
After the National Anthem, the USA Boxing Matches began. Representing Golden Cobra in the ring was Marquez Mestas at 64-pounds, Javier Mestas at 75-pounds, Jesse Duran at 120-pounds and Colin Sage at 144-pounds.
Brothers Marquez Mestas and Javier Mestas fought brothers Tyler Thomas and Chandler Thomas out of Randazzo Gym respectively. Both Mestas brothers were defeated by decision, but both represented their gym well.
Colin Sage lost his fight by a second round TKO against Jaime Luzanilla. The Golden Cobra gym wasn't blanked though. Jesse Duran came through with a unanimous decision over Randy Hughes from Henderson PAL.
After the bouts concluded and a 10-minute intermission, KC's Family Tae Kwon Do & Tumbling began their demonstrations. First was the Star Spangled Banner Demonstration, followed by the Introduction of the school and style demonstration. Next was how they point spar and refereed two matches, one match between April Moser and Danna Hunton. The other was between Cody Zellner and Izzy Housenga.
The individual performers for KC's were: Izzy Housenga (16), Cody Zellner (14), Danna Hunton (16), April Moser (14), Luke Jonas (10) and Ms. Kathy Tucker, Instructor.
After KC's performers had taken stage, then Individuals from Tae Kwon Do Unlimited showed off their skills. Representing Tae Kwon Do Unlimited were: Tayvie Jennies (6-years-old - Lil Dragon Blue Belt), Thekla Hutyrova (17-years-old - 1st Degree Black Belt) and Gavin Furrey (14-years-old - 1st Degree Black Belt).
There was a special guest appearance by World IKF Champion, Clifford Larson which kicked off the IKF and Muay Thai Matches.
Javier Mestas and Adam Bean represented the Verde Valley from the Golden Cobra Gym in the kickboxing event. In the Amateur MTR Jr. Welterweight division, Javier Mestas took on Victor Beltran II from Boxing Zone, out of San Diego, Calif. Despite losing his boxing match earlier in the evening, Mestas came back and got his kickboxing win by unanimous decision, 30-27, 30-27 and 29-28.
Two fights later, Adam Bean from Golden Cobra took on Shaun Henson from Rosales Kickboxing out of Albuquerque, NM. Bean also got the win and by unanimous decision, 29-28, 29-28 and 30-27.
The kickboxing card finished up with four more bouts with fighters from around California, Arizona and New Mexico.
"I want to send a special thanks to Leimomi Montijo from the Yavapai-Apache Nation for all of her hard work and time she put into this event," said Richard Williams with Golden Cobra Center of Fitness, Inc. "This was an amazing event that brought together all of the martial art schools from the Verde Valley. Thanks to Karen Conover for all of her performers from KC's Family Taekwondo and to Caleb Labarda and the Tae Kwon Do Unlimited Performers and a big thank you to Dr. Williams of Agility orthopedics. Without him at ringside this event could not happen."
For more information about Golden Cobra or for questions about this or future events, contact Richard Williams at 928-300-0281 or log onto www.goldencobracenteroffitness.com. KC's Family Tae Kwon Do & Tumbling's website is www.kcfamilytkd.com and Tae Kwon Do Unlimited's website is www.tkdarizona.org