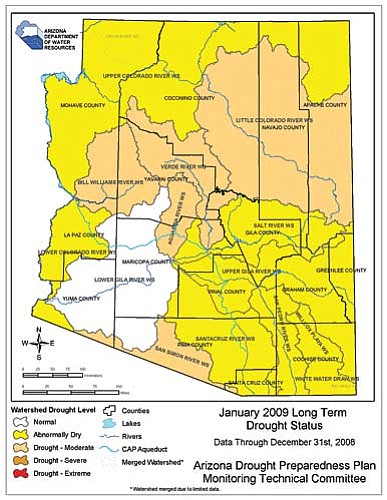 Originally Published: March 31, 2009 3:41 p.m.
If it seems as though the precipitation spigot has been turned off, that's because it has.
Forecast for the state made in January had predicted lower than average rainfall through the first three months. They have proven accurate.
Nevertheless, the overall picture, as far as drought conditions is good, mostly due to the higher than average precipitation that feel across Arizona in November, December and January.
According to the Arizona Department of Water Resources, the southern half of the state has returned to normal for the short term. The northern half, which includes the Verde Valley, is classified as abnormally dry.
Although abnormally dry sounds like a drought, it is actually the first rung below being normal.
The Verde River basin remains in moderate drought conditions as it continues to recover from extended drought conditions.
"We classify based on several factors," said Melanie Ford, drought planner for ADWR. "The long term analysis is based on precipitation data stream flow data for the last 48 months, which are compared with historical averages."
Stream flows in the Verde have been running above average due to the early snowmelt, but will likely mean lower than average flows in the spring and a potential for plenty of dead vegetation by early summer.
Salt River Project's Verde River reservoirs are at 61 percent capacity, which has allowed the Salt River reservoirs to remain at over 90 percent.
The storms this winter will make for a normal year along the Colorado, but will not make up for the 13 years of below average runoff.
Lake Mead is at 48 percent and Powell at 50 percent. Both are slow to refill due to heavy demand.
The 90-day forecast calls for continued below-average precipitation.
More like this story