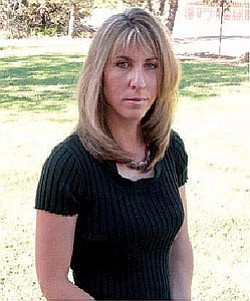 Originally Published: May 19, 2009 6:46 p.m.
A senior probation officer for Yavapai County, who serves a special type of clientele, has been recognized for her exceptional service above all other nominees across the state. She will also compete for the honor nationally.
Melanie Cianchetti works from the Cottonwood Adult Probation Office and out of the Marshal's Office in Camp Verde.
Cianchetti is assigned to the Sex Offender Program in the Yavapai County Superior Court and monitors sex offenders and those diagnosed with mental illnesses.
"It is a tough case load," insists Billie Grobe, Yavapai's Chief Probation Officer. "It requires a lot of years of experience and special training."
Melanie joined the county probation office in 1997.
Prior to the county service, Cianchetti was a reporter with the Camp Verde Bugle and Verde Independent newspapers.
"She is also one of our lead firearms inspectors and training officers," Grobe says. "She is responsible for all officers' training, practice sessions and instruction."
In addition, Cianchetti developed a simulation program for officers. "It is a simulated training program, where situations are simulated on a screen and officers respond using verbal tactics rather than physical tactics." Cianchetti's program fills a void that was not available before.
She has a caseload of about 60 people, Melanie's superior says. "It presents big challenges. Yavapai is a large county. You are working not just in the office but at homes at different hours of the day and night and weekends. You are always on the move."
A chief may not vote for her own officer, Grobe says, "so being selected by all the other chiefs in the state is really quite an honor for the department.
She says the Yavapai department, including nominees from the juvenile division, has never had someone qualified to receive the honor before Melanie.
Presiding Superior Court Judge Robert Brutinel and Grobe will recognize the achievement during a special ceremony today (May 20) at 3:30 p.m. in the Div. 3 courtroom the Yavapai Superior Court in Camp Verde.
Later this year, the Arizona Chief Probation Officers Association will present her with the Line Officer of the Year Award during their annual awards ceremony.
In August, she will represent Yavapai County and Arizona as nominee for the national Scotia Knouff Line Officer of the Year Award in Anaheim, Calif.
More like this story