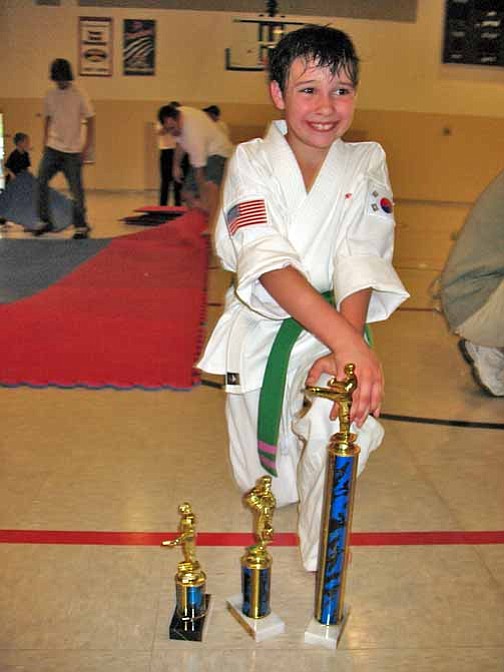 Originally Published: May 21, 2009 12:54 p.m.
GILBERT - Twenty-two martial arts students from KC's Family Tae Kwon Do made the trek from Camp Verde to the far East Valley in Gilbert for the Arizona Super Challenge Open Karate Tournament on Saturday, May 16. The AZ Super Challenge is one of the largest tournaments held in this sport in the state, with host to over 200 competitors each year and is rated a 5-star tournament, the highest level of competition as set in the AZMARRS circuit.
KC's students competed in forms, weapons, and sparring for beginner through advanced levels, ages six through adult, resulting in the group bringing home nine 1st place trophies, six seconds, six thirds and four 4th place awards, not to mention the Demo Team's win that comes with a $125 cash prize. The Demo Team is an elite group from KC's that performs a choreographed set of moves to music and has won this division 2 times in a row. "I couldn't be prouder of our competitors and the X-Team. Many have been under the weather in the past few weeks, but they worked hard and pulled out a great performance in the end," stated Karen Conover, X-Team Coach and Head Instructor at the school. The team plans to make a video from the competition to submit to the Jerry Lewis Telethon casting call for performers as well as other national casting calls. "We hope to perform more locally, as well as travel with the team this year, and are looking for unique opportunities for our kids," added Conover.
Notable individual performances from the AZ Super Challenge include Christopher Conover, Age 6 who competed in Intermediate Forms & Weapons, taking first in both areas out of a field of over a dozen others. "This was the first time Chris competed above the Beginner Level, so we were really pleased when he swept his divisions," said proud Dad Chuck Conover, also an Instructor at KC's. "He's a six year old who can throw an aerial (no-handed cartwheel) and some other cool tricks into his martial arts forms, tricks that are harder for many older and more experienced competitors. We got a lot of compliments about his performances."
Also impressive was 9-year old Nathaniel Wood, a State Champion from last year in the forms division, but who competed for the first time in the sparring division at this tournament. A green belt, Nathaniel also had to compete for the first time against Intermediate level competitors. "He took 2nd place in sparring out of a pretty good field, but we were most proud of watching him perfectly use all the drills we've taught him in class, they work." said Mrs. Conover. She went on to say that it was exciting to watch the match, especially when he classically responded to an offensive attack from his competitor with a quick and well-placed spinning reverse side kick for two points. "Other kids can definitely learn from the videos of Nathaniel's matches."
"Overall, the KC's group sets the standard for consistent and confident performances, whether in sparring or in forms and they usually are the school that brings the most competitors to our tournaments," stated Master Shanon Preston, tournament promoter and Owner of Arizona's Best Karate in Gilbert. KC's Family Tae Kwon Do is an affiliate school of Arizona's Best Karate, utilizing the expertise of 5th Degree Master Preston to guide their instruction on the black belt level. Mrs. Conover and KC's Head Instructor, a 2nd Degree Black Belt, makes the 2-hour drive on Monday nights each week to study under Master Preston, only to return and share it with her staff and students throughout the rest of the week.
KC's Family Tae Kwon Do focuses on the main tenets of instilling Honesty, Respect & Friendship among all the students enrolled, using the martial arts as a vehicle. Students challenge themselves physically while they learn the lessons of self defense, example setting, and becoming confident citizens in our community. If you or anyone you know is interested in studying the martial arts, learning more about life skills and summer programs for kids or fitness programs for adults, contact the school at 928-554-0140 or visit the website at www.kcfamilytkd.com.