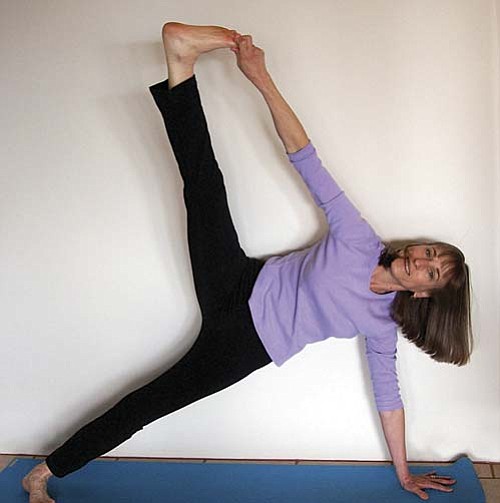 Originally Published: November 5, 2009 5:29 p.m.
Made in Clarkdale an art adventure
Dec. 4-13
The 23rd annual Made in Clarkdale exhibit, featuring the work of artists living or working in Clarkdale returns to the Clark Memorial Clubhouse and will be a cornerstone of all of the town's Christmas festivities. The opening reception is Dec. 4 from 6 to 9 p.m. Visit www.madeinclarkdale.org.
Learn Country & Western/East Coast Swing
Nov. 21
A one hour lesson plus an hour of dance practice with various Country & Western music tracks in the Camp Verde community gym (the old school gym) on the corner of S. Main Street & Hollamon Street (395 S. Min Street, Camp Verde) 7-9 p.m. Put your boots on and learn to swing. No partner needed. Cost is $7 per person. To help the dancing youth, sodas and bottled water will be provided at an additional cost.
Art and pizza opening in Clarkdale
The Clarkdale Chamber of Commerce announced the opening of The Gallery at Main Street Cafe and Pizzeria in the heart of historic downtown Clarkdale. The Gallery at Main Street Cafe and Pizzeria is a membership benefit for artists belonging to the Clarkdale Chamber of Commerce. Artists currently featured include Joan Bourque, Cornville, painter and muralist; Louis Bourque, Cornville, owner of Welding Arizona who creates metal fabricated wine racks and steel and glass tables; Elizabeth Gerstner, Cottonwood, a mixed media artist making art from old window frames; Eleanor Mead, Lake Clear New York, formerly a Clarkdale resident, exhibits terra cotta sculptures along with pen and ink sketches and watercolor paintings and Michael Turner, Clarkdale, who works with mylar on hardboard and paint on fabric.
For membership information and exhibit opportunities or other Clarkdale information, please contact the Clarkdale Chamber of Commerce at (928) 634-9438 and leave a message or e-mail: ccinfo@clarkdalechamber.com
November Heart of the Matter at VVMC
Nov. 9
Verde Valley Medical Center invites the community to its "Heart of the Matter" cardiac education program, Monday, Nov. 9, at 6:30-7:30 p.m. November's presentation, "Techniques for Stress Management," will be given by Sumner Sydeman, Ph.D., Associate professor of Psychology at Northern Arizona University.
An Arizona State licensed psychologist, Dr. Sydeman completed his Clinical Psychology doctoral degree at University of South Florida and his internship and Postdoctoral Fellowship at the University of Florida. His area of specialty is Clinical Health Psychology
The Heart of the Matter complimentary program will be presented at VVMC, 269 S. Candy Lane, Cottonwood, Conference Rooms B and C. It is easiest to park in the visitor lot on Candy Lane and enter through the Outpatient Services entrance. Please RSVP to (928) 639-6551. Walk-in attendance also is welcome.
Did you lose your keys?
A key ring with two keys was found near the Immaculate Conception Parish in Cottonwood on Oct.18 by a trash pick-up crew. There is a tag on the key ring with the owner's name. The owners name starts with the letter "G" and for security reasons, the entire name isn't noted. They were unable to contact anyone who was missing them based on the name on the tag. These keys will be destroyed if not claimed by the end of November.
Please contact Highway 89A "Road Warrior and CSI" Manager at 89A.CSI@gmail.com or call (928) 202-1186 if you believe these are your keys.
Abandoned Minds Improv Comedy presents Thanksgiggling
Nov. 7
Thanksgiving isn't the same old holiday anymore, especially when The Abandoned Minds improv troupe comes to stir up the giggles. Old Town Center for the Arts at Fifth & Main presents an evening of laughter with "Thanksgiggling" at 7:30 p.m. Tickets are $10 in advance and $12 at the door. Preceded by 15 minutes of Mind Blowing Magic by Robert Ray. Call (928) 634-0940
Eric Williams & the Cruisers
Nov. 13
Special guest Joe Neri joins Eric Williams & The Cruisers in a concert at Old Town Center for the Arts, Fifth & Main, Cottonwood, at 7:30 p.m. Get your socks knocked off with some great '50s music, sock hop style. Tickets are $10 in advance at $12 at the door. Call (928) 634-0940
Join the first Soup Cookoff
Nov. 21
Win cash and prizes for your homemade soup in the first Soup Cookoff sponsored by The Garden Community Church at the corner of Mingus and Main in Cottonwood from 11 a.m. to 2 p.m.
For information and details contact the church at (928) 649-2289 or Annette at 634-6308. Registration deadline is Nov. 12.
Kachina Retired Teacher's Association
Nov. 16
The Kachina Retired Teacher's Association (KRTA) will hold its November meeting at 11 a.m. at Mulligan's Patio, the Village of Oak Creek Clubhouse, 690 Bell Rock Blvd., the Village of Oak Creek. The timely program will be "The Sedona Community Center and the Arizona Tax Credit Program." Presenters will be Marie Brown, President of the Board and Mary Ann Thompson, vice president.
Membership in KRTA is open to all former teachers or school employees from Arizona or any other state. Qualified residents of all Verde Valley communities are invited to join and attend. Annual membership dues are $10 and payable at the meeting. Lunches, including beverage, usually cost $12 to $13, including gratuity.
Persons having an interest to learn more about KRTA and its activities may call Mary Rubel, president, at (928) 284-9614.
Quilters have Show & Tell
Nov. 10
The Red Rock Quilters will hold their November monthly meeting at the Masonic Temple (135 Shrine Road) from 9 a.m. to noon. All levels of quilters and fabric lovers, guests and traveling quilters are welcome. The November meeting will include Show and Tell, and will feature two speakers. Charlie Odegaard from Odegaard's Quilt Shop in Flagstaff will discuss sewing machine maintenance. Also presenting will be Pam Morris who collects antique sampler needlework. After the meeting will be an optional group project to make fleece scarves for the Clothe-A-Child project (no sewing required!), sponsored by the Masons and Elks. To reach the Masonic Temple, take Airport Road to the stop sign and turn left onto Air Terminal Drive. For questions or further information, contact Lorrie Petersen at 928-274-5537 or blainelori@aol.com.
Verde Valley Weavers & Spinners Guild meet
Nov. 19
The Verde Valley Weavers & Spinners Guild will hold their monthly meeting at St. Andrews Epicopal Church on Arroyo Pinon Drive in Sedona 9:30 a.m. Coffee and refreshments will be served at 9:30 and the business meeting will begin at 10.
This month's program will be presented by president Linda Kauffman. She will be discussing and showing examples of dyeing yarns for weaving, or warp yarns in variegated colors and demonstrating methods of mixing colors. This will be a prelude to a workshop on warp dyeing that Linda will be leading in the afternoon. Participants will be bringing their own measured warp yarns ready for dyeing and protective masks and gloves and will proceed dyeing their yarns in preparation for weaving later on.
All meetings and programs the Guild sponsors are open to anyone interested in participating. On-going activities are the Spinners who meet twice a month and the Tapestry weavers that meet once a month.
For more information call (928) 282-5134
Free day for Veterans Day at National Parks
Nov. 11
To honor America's service men and women, areas managed by the Department of the Interior will not charge entrance fees on Wednesday. Visitors to public recreation lands managed by the National Park Service, U.S. Fish and Wildlife Service, Bureau of Land Management and Bureau of Reclamation are invited to take a day to honor and reflect on what our service men and women have done to maintain our freedom and keep peace around the world.
The Department of Agriculture also is waiving entrance fees at its national forests.
Veterans honored at Cliff Castle Casino
Nov. 11
Cliff Castle Casino will be honoring Verde Valley veterans on Wednesday. To show our respect and appreciation for all who are serving or have served our country in the military, Cliff Castle Casino's The Gallery restaurant will be offering eligible veterans and military personnel a free, all day, "All You Can Eat Buffet" from 7 a.m. to 9 p.m.
All guests showing a valid military ID will be eligible for the free honorary Veterans Day meal. Acceptable forms of ID will include: DD-214; Military ID; Veterans ID; American Legion membership, or Veterans of Foreign Wars membership
For more information please call the Castle Club at 928-567-7999 or visit www.cliffcastlecasino.net.
Ancient Science & Modern Secrets Conference
Nov. 6-7
Adventures Unlimited Books in Old Town Cottonwood, brings together an eclectic group of speakers who will give exciting and informative presentations on a wide variety of topics, from lost cities to ancient aliens. The conference will kick off Friday with a chance to meet the speakers at a free wine and cheese party open to all attendees to be held at Adventures Unlimited Books, 1020 N. Main Street in Old Town Cottonwood.
Saturday the conference begins at 9 a.m. at the Second Creative Life Center. Call (928) 639-1664.
Archaeology society meeting takes a look from above
Nov. 19
The November meeting of the Verde Valley Chapter of the Arizona Archaeological Society will be, at 7 p.m. at the Sedona Public Library. The speaker will be Joe Vogel, who has combined a lifelong interest in flying with more recent interests in archaeology and photography, to produce for us an evening of fascinating aerial photography of archaeological sites, mostly along the Verde River. To date he has photographed over 800 Indian and historic sites. Contact Ken Zoll at (928) 284-1228 for further information.
Spruce up your square dance clothing
Dec. 1 & Dec. 8
Attention Square Dancers: Do you need to spruce up your dance wardrobe? Are you a new dancer and would like to dress up a little more? The Cottonwood Roadrunners will hold a sale of gently used square dance clothes, shoes and accessories for guys and gals. The sale will be during the Tuesday night dances at the Cottonwood Civic Center, from 6 to 8 p.m. Anyone having square dance clothing items to donate, please call Evelyn at (928) 639-1405.
BCAC Fall Festival Arts and Crafts Sale
Nov. 6-7
The 16th annual Beaver Creek Adult Center's Fall Festival Arts and Crafts Sale will be held at the Center, 4250 Zuni Drive, Lake Montezuma on Nov. 6 from 9 a.m. to 4 p.m. and Nov. 7 from 9 a.m. to 2 p.m.
Vendor applications have already been sent out and slots are beginning to fill up. There will be a huge selection of affordable holiday items and gifts from which to choose. Quality, handcrafted specialties range from stained glass creations and jewelry to candles, paintings and textiles.
The Annual BCAC Bake Sale will also be held in conjunction with the arts and crafts sale. Please call Jan at (928) 592-0814 or Lylia at 567-4698 for more information about the arts and crafts sale.
Camp Verde Coffeehouse Concert
Nov. 6
Vyktoria Pratt Keating will perform acoustic rock, folk and Celtic music from 7 to 9 p.m. at Beaver Creek Books and Artisans Gallery at 545 S. Main St. in downtown Camp Verde. A $5 cover includes refreshments. Call 567-4377.
American Legion Post 93 Steak Dinner
Nov. 7 
American Legion Post 93 in Camp Verde will have it monthly Steak Dinner. Steaks by Randy Bruce along with Sharon Hollamon's famous cowboy beans, baked potatoes, salad and dessert. Dinner will be served from 5 to 8 p.m. or until steaks run out.  Music and dancing will be provided by the Rusty Zipper Band.
Forest Service seeks comments on water tank
Nov. 13
The Red Rock Ranger District, Coconino National Forest, is considering a proposal to allow the Yavapai Apache Nation and Indian Health Services to construct an additional water storage tank along Middle Verde Road adjacent to their existing water tank location. This additional tank is needed to provide water storage for the existing residential areas of the Nation. There is currently not adequate water storage during the summer to support the water needs of the existing residents in this area. The proposal is to add the new tank similar in size and color just behind the existing water storage tank that is adjacent the Middle Verde Road. This proposal would add approximately one-quarter of an acre of additional National Forest land to the existing permit area for the water tank.
At this time the Forest Service is planning to complete an environmental analysis process and is asking for any issues, concerns or comments about this proposal. Comments should be sent to Judy Adams, Red Rock Ranger District, PO Box 300, Sedona AZ 86339. Any comments received are available for public review. Comments are most useful if received by Nov. 13. Contact Judy at (928) 203-7506 for additional information.
Plan for the Fall Arts and Crafts Sale
Nov. 7
Artists and Crafters, it's never too early to plan for your fall sales. Reserve a space now for the St. Thomas Episcopal Church 2009 Arts and Crafts Festival.
St. Thomas is looking for quality artists and artisans to add to the growing list of exhibitors. The goal is to make this the biggest and best craft event in the Verde Valley.
To reserve your space and for more information, call Shirley Smith at (928) 649-2154. St. Thomas Episcopal Church is located in Clarkdale across the street from the Post Office.
Fish dinner with the Moose
Loyal Order of Moose, a nonprofit organization, has a fish dinner each Friday. The menu includes baked fish, fried fish, shrimp, chicken, and combo plates. The kitchen is clean and inspected by Yavapai County, and the volunteer kitchen helpers have health cards. Dinner is 5-7 p.m. Moose Lodge, 1051 S. Broadway, Clarkdale. Call (928) 634-8668 if you have any questions.
Elks Annual Craft Sale
Nov. 7
The Jerome Elks Lodge will present their 16th annual Arts and Craft Faire from 8 a.m. to 3 p.m. There will be 26 crafters from the Verde Valley displaying handmade articles on 34 tables for your early Christmas shopping. The snack bar will be serving pancakes and sausage for breakfast and a large variety of lunch items from 8:30 a.m. to 1 p.m. Proceeds from the rental of tables goes to Clothe a Child Christmas Project.
Dancing in Clarkdale to Sentimental Journey
Nov. 7
The Clarkdale Heritage Conservancy Board and the Clarkdale Heritage Center host a dance featuring the big band sound of Sentimental Journey, a live 16-piece orchestra, in the Clarkdale Clubhouse on Ninth Street in Clarkdale. Dancing begins at 7 p.m. and runs until 10 p.m. This is a non-alcoholic event and refreshments are available. Admission is only $5 per person and you can dance the night away. For further information call the Clarkdale Town Hall at (928) 634-2400 or Pat Williams at 649-9672.
Auditions for Vanities at Verde Valley Theatre
Nov. 17
Verde Valley Theatre is calling all actors to audition for the third play of the 2009-10 season - Vanities. Auditions for Vanities will be at 7 p.m. at the Clark Memorial Clubhouse located at Ninth and Main Streets in historic downtown Clarkdale.
Veteran Verde Valley Theatre director Craig Hartley will be conducting the auditions. Vanities, by Jack Heifner, is a laugh-out-loud comedy about the growth of a friendship among three small town women coming of age in the 1960s and '70s.
In addition to actors, Verde Valley Theatre, is looking for people interested in working behind the scene - stage manager, stage crew, lighting and sound technicians, set design and construction, producer, and house manager.
For more information about the auditions and working behind the scenes, go to www.verdevalleytheatre.com.
Girl Scout Community Turkey Dinner
Nov. 18
The Girl Scouts of Cottonwood are having their annual Community Turkey Dinner. This will be held at the Clarkdale - Jerome Elks lodge on Broadway in Clarkdale. The annual event will take place from 5 to 7 p.m. The menu includes turkey and dressing, mashed potatoes, yams, green beans, roll, slice of pumpkin or apple pie and a drink. Cost is $5 for adults, $4 for seniors and $3 for children. This event has been a part of the community for the past 33 years and we are very excited to bring you the 34th annual dinner.
They are short Brownie and Junior Leaders - they have 27 girls who would like to be Girl Scouts but they do not have a leader for them. If you have a couple of hours a week you would like to make a difference in someone's life please call Coleen at 646-7437 from 5 to 8 p.m. The training consists of three classes three hours each.
Cornville Community Association's Annual Potluck
Nov. 11
The Cornville Community Association hosts its annual potluck at 7 p.m. at Oak Creek Elementary School.  This year's theme is barbecue, so cook up your favorite BBQ dish, beef, chicken, pork, turkey or even vegetarian or bring your favorite side dish. Desserts are always welcomed. Local musician Greg Tauriello will provide some country, cowboy and light rock music for the evening's entertainment.
There will be a toy collection box for Toys for Tots - please remember that every child deserves a little Christmas. If you can't make it to the potluck, you can locate a collection box at the Verde Valley Toys for Tots Web site.
There will be great raffle prizes and a 50/50 drawing. Plates, napkins, eating utensils, water and soda will be provided. A $2 donation per adult and kids free will help with cost of facility, music and beverages. When you know what you would like to bring or have any questions about the potluck, contact Lois Hook at loishoo@cableone.net or call 649-3190.
Check out the Web page at www.greatercornville.org.
Super Scoop Friday
Nov. 6
Build your own "all you can eat" ice cream dream with toppings of your choice at Super Scoop Friday at Verde Village Clubhouse, 4855 E. Broken Saddle Drive from 10 a.m. to 3 p.m. Get one free with a new membership.
From State Route 260 and Del Rio Drive (Unit 4), follow the blue VVPOA Club House Signs. Call (928) 646-5598, e-mail vvpoa@mail.com or visit vvpoa.org.
Veterans Day Motorcycle Run
Nov. 7
The Verde Valley American Legion Riders are presenting the third annual Veterans Day Run, starting at Post 25, at 480 Calvary Way in Cottonwood. Day-of-event registration is 8-10 a.m., and kickstands up at 10:30 a.m. For early registration make checks payable to Verde Valley ALR and mail to 295 S. Main St., Camp Verde a Ride pin, raffle ticket for drawing, and the afternoon meal with music by the Cadillac Angeles. Breakfast will be available. High hand $100, low hand $50.
For more information call Popcorn (Bill) 593-9508
Book-signing in Cottonwood
Nov. 7
Billie Jane McIntosh of Cottonwood will sign her book "From Georgia Tragedy to Oklahoma Frontier" at The Book Store Gift Corner (in Safeway Shopping
Center) in Cottonwood from 10 a.m. to noon. The book is the story of her great-great-grandfather Chilly McIntosh, 1800-1875, as well as the story of a Native American tribe - Muscogee (Creek) - as it emerged from a tribal lifestyle to become part of the new and larger Euro-American Society.
Experience the Dream
Nov. 8
Emmanuel Fellowship is celebrating with the community and their church families "Experience The Dream." From noon to 3 p.m. Emmanuel Fellowship will be hosting a free Celebration Event Fall Fest complete with food and family fun. Come and see what Experience The Dream is all about. Emmanuel Fellowship is located at 1580 E. Fir St., Cottonwood.
VVPOA to vote on raising dues
Nov. 9
Verde Village Property Owners Association (VVPOA) will vote on an amendment to the Organization Bylaws in reference to raising annual membership dues. Voting will take place during the monthly general meeting in November. For more information please attend the Oct. 12 meeting, call 646-6505 or contact a board member using the provided links on the vvpoa.org Web site.
All meetings are held at the VV Clubhouse at 4855 E. Broken Saddle Drive, Cottonwood
VVPOA general meeting
Nov. 9
The Verde Village Property Owners Association has its general meeting at 7 p.m. in the Verde Village Clubhouse, 4855 E. Broken Saddle Drive. They will vote on a yearly dues increase. Call (928) 646-5598.
Verde Valley Voices on the move
The Verde Valley Voices has a new practice venue. They now meet each Tuesday from 6:30 to 8:30 p.m. at Verde Valley Presbyterian Church, 1500 East Hombre Drive, in Cottonwood. They are a non-audition choir, open to all; for more info, call (928) 649-3172.
Get in on Genealogy Discussions
Genealogy Discussions to be held at the LDS Family History Center located at 1377 Hombre Drive in Cottonwood. The times are 10-11:30 a.m. The Family History Center will be open before and after the meeting. Discussions will continue weekly, except for the last two weeks of November and December.
Nov. 9 Military Records
Nov. 16 Case Study (Another research example)
Nov. 23-30 Thanksgiving holiday, no meetings
Dec. 7 Land Grants & the BLM Website
Dec. 14Case Study
Dec. 21-28 Christmas Holiday, Spring Sessions Begins Jan. 4, 2010
HDYF board meets
Nov. 11
The next High Desert Youth Football Board Meeting will be at 8 p.m. at the Cottonwood Middle school football field. HDYF Board elections will be Dec. 2 at 7 p.m. at the COCSD board room. HDYF is run by volunteers, who are needed to help our children succeed. All positions are open - president, vice president, treasurer, secretary, public relations, & board members.
Zeke Taylor BBQ returns
Nov. 14
The 18th annual Zeke Taylor BBQ, featuring succulent beef, slow roasted overnight in mesquite coals, served with cowboy beans, coleslaw, dessert and beverage - plus western style entertainment - is 11 a.m. to 2:30 p.m. at the Clemenceau Museum, Cottonwood. Advance tickets are available at the Cottonwood Chamber of Commerce and at the Museum doing regular hours, or at the door on the 14th. Tickets are $9 adults, $5 children. All proceeds benefit the all-volunteer Clemenceau Heritage Museum, preserving and displaying the mining and ranching history of the Verde Valley. The museum is located on the corner of Willard Street and Mingus Avenue in Cottonwood. Call (928) 634-2868 or visit www.ClemenceauMuseum.org.
Walkin' on Main a historic celebration of 89A
Nov. 14
"Walkin' on Main" celebrates historic Highway 89A from 11 a.m. to 5 p.m. The Old Town Cottonwood Historic District, between Jerome and Sedona, will be blocked off from traffic for the celebration and the historic street will become a pedestrian mall.
Stroll and enjoy a juried art show, wine tasting, excellent entertainment, classic cars and historic displays. A juried fine art show includes talent from Camp Verde, Sedona, Cottonwood, and Jerome represented by well-known artist organizations, art from two local high schools, and individuals.
Verde Valley winemakers and vineyards will host an outdoor wine tasting. The main stage will feature some the state's best entertainers. Live music will play throughout the day. Local historical societies, antique and classic cars and self guided historic tours will showcase the history of Old Town Cottonwood.
Artist applications can be picked up at the Cottonwood Parks and Recreation Office.
For more information, contact Cottonwood Parks and Recreation Department at (928) 639-3200.
A Wedding to Die for
Nov. 14
The Verde Valley Senior Center celebrates its 30th anniversary with the outrageously funny and deadly murder mystery My Big, Fat Mafia Wedding, presented by Canyon Moon Theatre. The bride, Sofia Spumoni, is drop-dead beautiful. The groom, Rico Rigotini, is terminally handsome. The wedding at the Sons of Italy Function Hall is picture perfect - until a body hits the floor and super-sleuth Richard Dick is called in. Everyone is a suspect, including you!
The evening begins at 6 p.m. at the senior center, 500 E. Cherry St. Cottonwood. Limited seating. Ticket price of $50 includes a five-course meal complete with wedding cake, prepared by Chef Chris Smith of the Asylum in Jerome.
For information or tickets, call the senior center at (928) 634-5450 or Canyon Moon Theatre at 282-6212.
Legion posts warm vets with clothing drive
Thru Nov. 15
"Night time temperatures are dipping daily," according to American Legion 135 Cornville Post Commander Thomas Rounds, "and we can expect that to continue with the onset of winter. For that reason, American Legion Post 25, their Auxiliary unit and members of Post 135 are joining forces to carry on the tradition of collecting warm clothing for our less fortunate veterans."
The drive begins immediately and will run through Nov. 15, just in time for Thanksgiving. All donations dropped off at Post 25, located at 480 Calvary Way, should be marked "VA Holiday Clothing Drive" attention Brian Gehling or Jeri Strande. For items that need to be picked up, please call Gehling at (928) 634-3004 or Strande at 649-3374 after 13 November.
As in past years, donations will be transported to the VA Hospital in Prescott for local veterans. Items being sought include men's and women's (all sizes) jackets, sweaters, long sleeve shirts, trousers, caps, gloves and shoes. Please ensure that all items are clean and in good condition.
Mitzvah (Good Deed) Day volunteers needed
Nov. 15
Four hundred volunteers are needed for 40+ great projects in Sedona, VOC and Cottonwood 12:30-4:30 p.m. Men, women, families, kids, teens, seniors, all faith communities and spirit-led people are invited to participate in the 3rd annual community-wide Spirit-Led Day of Service to Community Organizations of Sedona and the Verde Valley. Gather at 12:30 p.m. at St. John Vianney 180 Soldiers Pass Road, Sedona. Sign up today: contact Barbara Litrell 300-5839 blitrell@aol.com.
AARP Driver Safety Class
Nov. 17
 The American Association of Retired Persons has scheduled a Driver Safety Class from 8:30 a.m. to 12:30 p.m. Open to all licensed drivers, the course will take place at the Yavapai County Building - Verde Room, 10 S. Sixth St., Cottonwood.
The Driver Safety program is a four-hour refresher that is available to drivers of any age. The class focuses on the physical changes that accompany aging, and teaches drivers to compensate for these changes. There is a $14 charge for this class, and AARP members will get a $2 discount.
Class participation is limited to 25. Please call instructor Marianne Alicki at (928) 634-7975 if you are interested in attending this class.
Downing to address Democrats
Nov. 19
Democrats of the Verde Valley will host speaker Dr. Ted Downing, former state legislator, at 6:30 p.m. at the Pine Shadows Club House, 2050 W. 89A, Cottonwood.  The topic is "Doing Time: The Arizona Criminal Justice System and Democratic Politics. Downing will give an overview of Arizona's dismal rankings on the criminal justice issue.
This is also your chance to meet candidate for State Superintendent of Public Instruction, Jason Williams.  For further info on this meeting call (928) 634-0847 or 634-7563. Please bring a food donation for the food bank or the Mission. Note that we are meeting a week earlier this month due to Thanksgiving.
Old Town Mission prepares Thanksgiving food drive
Nov. 20-21
This year Old Town Mission will hold its Thanksgiving Turkey and Holiday Food Drives at the Cottonwood Safeway, Fry's Food Store and Wal-Mart from 9 a.m. to 6 p.m. The food collected during these food drives will provide Holiday Dinner Fixing Bags, as well as weekly groceries to struggling families. Shopping lists will be provided at all stores and are available online at www.oldtownmission.org to assist shoppers with specific items needed. The Mission will distribute the Thanksgiving Turkeys and Trimmings Bags to registered families on Monday, Nov. 23.
For information regarding services, donations or volunteerism, please call 634-7869 or visit the website www.oldtownmission.org.
Start up your vegetable garden now
Nov. 24
Here's a great way to get started on your 2010 Vegetable Garden. The Yavapai Master Gardeners Association is offering a free gardening presentation on "Vegetable Seed Sowing and Planting." This two-hour lecture covers the development of a seed starting and planting calendar, plant selection, seed propagation, planting out - timing (hardening off) and methods and succession planting.
The presentation is 6 to 8 p.m. at the Cottonwood Public Safety Building, 199 S. Sixth St., Cottonwood. Call for more information at (928) 445-6590, ext. 222.
In the Verde Valley there is still room for the Oct. 27 presentation on Planning your Vegetable Garden." Also 6-8 p.m. at the above location.
Dances of Universal Peace in Cottonwood
Nov. 28
Dances of Universal Peace are a joyous, multi-cultural way to touch the spiritual essence of love within ourselves and others, using chants and mantras from around the world. These simple Circle dances are all taught as you do them. Old Town Center for the Arts, Studio B, 633 N. Fifth St. at N. Main at 7 p.m. Suggested donation $8. Info: Marianna (928) 204-2608 or Cathryn - shakura@commspeed.net
VFW Ladies Auxiliary seeks Verde crafters
Dec. 4-5
The Ladies Auxiliary of the VFW Post 7400 are seeking crafters to participate in an Arts and Crafts Show scheduled (just in time for last minute Christmas shopping) on Dec. 4 and 5, 2009, from 9 a.m. to 3 p.m.
The show will be at the VFW hall at 705 E. Aspen St. in Cottonwood. Seventeen eight-foot selling tables and spaces are available at a cost of $20 for two days use. Additionally, there will be 6 more eight- foot tables available for $10 for one day use only. Tables will be reserved on a first-come-first-served basis and are open to all types of specialty items (except fresh foods). Along with the cost of the individual tables, each crafter will be asked to bring a canned food item to be redistributed into holiday baskets.
Interested participants should call Jeri Strande at (928) 649-3374 in order to make reservations or for more information. Application packages will be mailed to prospective crafters no later than Nov. 15. Due to limited space, crafters are encouraged to make reservations as soon as possible.
Verde Valley Voices in Christmas concert
Dec. 12
The Verde Valley Voices proudly presents their 12th annual Christmas Concert, "Holiday Friends," at 3 p.m., at Verde Baptist church, 102 S. Willard St. in Cottonwood. The program will feature performances by the Cottonwood Community Band and "Ringspiration" Bell Ensemble, and the audience is invited to sing along on many of the numbers. Tickets may be purchased for $10 each, ($25 for 3), at Verde Floral in Old Town Cottonwood, from any choir member, or at the door, which opens at 2:15 p.m.
Annual holiday concert
Dec. 18
The annual Mount Hope/Lingo Holiday Concert is scheduled this year in the auditorium at Mingus Union High School, 1801 Fir St., Cottonwood, starting at around 7:30 p.m.
AARP Tax Aide volunteers needed for 2010
Feb. 1-April 15
As our year 2009 comes to a close, we are reaching out to the community and asking those of you who have basic computer skills and basic knowledge of tax forms to please consider volunteering to be part of the team that will be filing taxes for those who may be in need of this type of service.
AARP, working in conjunction with IRS, is providing a program to those needing to file but are not familiar with tax forms. You do not need to be a member of AARP, retired or over 60. In January you need to be willing to attend training classes in filing tax returns and basic tax law. You must pass the IRS exam and become certified. You will then be part of a Nation-wide group of volunteers who become involved with the needs of your community. Our Cottonwood team is very special. We all help each other to give the best service to the community.
Time spent is not a lot. In addition to the training time in January, you are only asked to participate Four hours per week form Feb. 1 until April 15. That is not a lot to ask and the good feeling you experience is priceless.
To be sure you may have questions. Please feel free to call Joan Bonnet at 634-1694 and leave your name and telephone number. She will return your call and discuss any questions you may have. Deadline for volunteering is Dec. 1, 2009. The sooner you contact Joan, the sooner you can become part of the team.
Rockhounds form new club
 A group of enthusiastic rockhounds and jewelry makers has formed a new club in the Verde Valley. Calling their club Verde River Rockhounds they will concentrate on trips into the Arizona countryside to collect interesting rock and semi precious stones and practice lapidary techniques to produce high-class jewelry. At their monthly meetings they plan the opportunity to discuss their hobby while hearing from invited speakers.
Verde River Rockhounds may be contacted through the Membership Vice President Marcy Welch on (928) 380-2588 or at P.O. Box 2674, Cottonwood AZ 86326.
Sweats for Vets
The American Legion Auxiliary Post 25, 480 Calvary Way, Cottonwood, is collecting Sweats for Vets, a program to obtain new sweats for Vets that have become disabled with a loss of a limbs.
They will be delivered to the VA Hospital in Prescott and other Veterans facilities where the need exist. Just in time for the cold winter that is approaching Please drop off your contribution to Post 25, there is a large box marked Sweats for Vets. Call 634-3004.
City Council meetings get televised
The Cottonwood City Council meetings are now televised. CableOne Channel 20 is now the City of Cottonwood Government Channel. Yavapai Broadcasting has been recording Cottonwood Council meetings since the beginning of September 2009 and has the Oct. 6 regular City Council meeting available on their web site www.myradioplace.com. As of oct. 20, Yavapai Broadcasting will not only have them available on-line but has been working in conjunction with local cable company CableOne, who is now broadcasting the meetings live on channel 20 and will replay them at various times throughout the week.
As this channel develops, more programs will be broadcast, such as local news, public service announcements, special events, etc.
Work your baby's brain
Cloy Dellaripa, M.C. presents Baby Brain Time at the Cottonwood Library Kids Zone. Bring your baby to play, socialize, learn, and have lots of fun every Tuesday at noon.
Baby Brain Time at the Cottonwood Library Kids Zone is a program designed to enhance your baby's sensory development and to promote attention, bonding, and communication between babies and toddlers, from birth to 24 months, and their parents or caregivers.
It's free.  No registration required.
2010 Verde Historical society Calendars
The Verde Historical Society is proud to present its 2010 calendar, now available for $7 in the Clemenceau Museum gift shop. The new calendar features Verde Valley civic and charitable clubs and organizations, past and present, and is dedicated to the many volunteers that enable them to carry out their good work.
Each month features a different organization with a photo or photo collage and a brief description of its activities. Among the historic photos there's an early 1950s photo of members of the Lions Club, dressed in their wives' clothes for a benefit baseball game to raise money for the Smelter City volunteer Fire Department. There's a photo of Arizona's first Beef 4-H club, formed in Camp Verde in 1928 and a photo from 1939, showing CCC workers putting in the basketball court next to the then new Cottonwood Civic Center, built largely with funds raised by the Women's Civic Club.
Gift shop hours are the same as the Museum: 9-12 Wednesdays and 11-3 Fridays - Sundays.
Bingo at the Legion
American Legion Post 25 hosts Bingo every Wednesday and Saturday, 7-10 p.m., with 17 games each night. The first Wednesday of the month is $100 night. And every Bingo night that h as 100 players will also be a $100 night.
Kitchen is open from 6 p.m. for dinner or snacks. The post is at 480 Calvary Way, Cottonwood. (928) 634-3004.
Volunteers train at Hospice Compassus
Volunteer training by Hospice Compassus is continuing at the public library in Cottonwood every Wednesday and Friday afternoon for the next five weeks. Classes run from 1 until 4 p.m. in the Meeting Room. After completion of the classes, volunteers will become a Certified Non-Medical Volunteer and be qualified to do volunteer activities with any hospice agency.
In an effort to make this vital training available to the most people in the upper Verde Valley, registration will continue for the next two weeks. To register for these classes, call the Hospice Compassus Volunteer Coordinator at (928) 284-0180, ext. 111.
Marauder Club cooks it up
It is Mingus Football time, and the Marauder Club is frying up hamburger, hotdogs and chicken breasts for your enjoyment. After work don't worry about grabbing dinner, they will cook it for you.  Hamburgers are $3, hot dogs $2 and chicken breasts $4. All come with chips and grilled onions if you want.  They will have them ready 30 minutes before the game and all the way up until half time.
Marauder Club uses the funds it raises for scholarships at Mingus Union.  
Earn free stuff and help the kids
Verde Valley Christian School, 102 S. Willard St., is participating in Food City's "For My School" program. Pick up a key tag at the school office and scan it whenever you shop at Food City to earn free stuff for the school - from pencils to computers. For more information, call 634-8113.
Get the Smartest Card @ your library®
September is Library Card Sign-up Month, and the Cottonwood Library Youth Services Department wants to make sure that all the youth and families of Cottonwood have the smartest card of all - a library card.
Observed since 1987, Library Card Sign-up Month is a time when libraries across the country remind parents that a library card is the most important school supply of all.
For more information on how to sign up for a library card, visit the Cottonwood Library Kids and Teen Zone at 100 South 6th Street, call (928) 634-7559 or visit the library online at www.ctwpl.info.
After-School Reading Club starts
Join the after-school Reading Club in the Kids Zone at the Cottonwood Public Library. You don't even have to read...they'll read to you. The club meets Mondays (except holidays) 3:30-4:15 p.m.
All elementary school-age children are welcome. For more info, call Youth Services at (928) 634-7559.
Sing with Verde Valley Voices
The Verde Valley Voices practice each Tuesday from 6:30 p.m. to 8:30 p.m. at the On The Greens clubhouse located at 969 W. On The Greens Boulevard off historical State Route 89A (on the way to Clarkdale). This is a non-audition choir open to all. For more information call (928) 649-3172.
Young Marine unit sought
The Young Marines are looking for a few good adults to assist in establishing a Young Marine unit in the Cottonwood area. The Young Marine program is a premier nonprofit national youth education and service organization that has been in existence since 1959. This program is dedicated to developing responsible citizenship in the nation's youth and promotes a healthy, drug-free, gang-free lifestyle in their membership. For more information on this program, visit www.youngmarines.com, call (800) 717-0060, or contact the Young Marine Division 6 Commander at division6co@youngmarines.com or POB 220205 Milwaukie OR 97269-0205
What's cookin' at the American Legion
Vince's Kitchen hosts its Famous Friday Night Fish Fry from 5 p.m. to 7 p.m. Guaranteed you will come back again and again.
The kitchen is open daily: Lunch Tuesday through Friday, 11 a.m.-3 p.m. Evenings Wednesday, Friday and Saturday 5-7p.m.
American Legion Post 25, 480 Calvary Way, Cottonwood. Call (928) 634-3004.
Depression Support group starts
The Depression and Bipolar Support Alliance of Yavapai County has added Cottonwood to its many locations. They offer free, open, confidential peer support groups. Call (928) 925-3578
Artists invited to Creativity Pool
Vic and Al's Creativity Pool of Resources (aka CPR for Artists) meets at Cottonwood Public Library at 6 p.m. every first, second and third Thursday. This growing network of local and visiting artisans welcomes new members, whatever their creative interest or skill level. No dues or fees. Adults must accompany minors. Call (928) 646-3888.
Jerome
Sedona
Veterans Day at the Museum
Nov. 11
The Sedona Heritage Museum's annual Veteran's Day tribute will begin at 11 a.m. at the Museum.  The program will honor veterans and active service people. This year's program includes assistance by Sedona Boy Scout Troop #48, who will perform the flag ceremony. After the formal program, lunch will be served in the Museum's historic fruit packing shed.  Diners will be entertained by Dick Curtis, a Marine veteran of World War II and Korea who will perform music from the 1940s-1960s intertwined with humorous commentary and dance music. Curtis is a film, theater and television personality who appeared in 48 episodes of the Jonathon Winters show, hosted "Queen for a Day", "A.M. New York", and the Dick Curtis Show.
The day's events are underwritten by the Sedona Historical Society.  The program, lunch and Museum admission will be free.  For more information call (928) 282-7038.  The Sedona Heritage Museum is located at 735 Jordan Road in Uptown Sedona.  
NAWBO presents Rwandan Orphan Quilting Project
Nov. 12
Dottie Webster and Suzanne Connolly closed their eyes and saw beautiful, African Quilts. Quilts made of the beautiful brightly colored wax-relief batiks made by the older children at El Shaddai. These children could learn a skill by which they could support themselves. Learn how these two women arrived in Kigali and how a local group of women came to the rescue. The Sedona -Verde Valley chapter of National Association of Women Business Owners (NAWBO) Luncheon from 11:30 a.m. to 1:15 p.m. located at Agave of Sedona, with catering by Rosalie's of Sedona. Tickets purchased one week in advance are $25 for members, $30 for non-members. Please make reservations by visiting www.nawbosvv.org and click on Events for more information and to purchase tickets.
Get a thrill for Friday the 13th
Nov. 13
After Halloween, out-of-work ghouls, goblins and the public are invited to a free showing of More Than a Kiss, a student thriller about an alluring succubus, a she-demon who finds her victims in a small desert town bar. The screening is at the Zaki Gordon Institute for Independent Filmmaking, 4215 Arts Village Drive, Sedona.
After the short thriller, the documentary film students will show their celebration of ZGI's 10th anniversary, including interviews with past and present students, their successes and ZGI's history in Sedona. The event is free.
For information, call (928) 649-4265.
Dances of Universal Peace in Sedona
Nov. 14
Dances of Universal Peace are a joyous, multi-cultural way to touch the spiritual essence of love within ourselves and others, using chants and mantras from around the world. These simple Circle dances are all taught as you do them. Sedona Community Center, 2615 Melody Lane at 7 p.m. Suggested donation $8. Info: Marianna (928) 204-2608 or Cathryn - shakura@commspeed.net .
Mitzvah (Good Deed) Day volunteers needed
Nov. 15
Four hundred volunteers are needed for 40+ great projects in Sedona, VOC and Cottonwood 12:30-4:30 p.m. Men, women, families, kids, teens, seniors, all faith communities and spirit-led people are invited to participate in the 3rd annual community-wide Spirit-Led Day of Service to Community Organizations of Sedona and the Verde Valley. Gather at 12:30 p.m. at St. John Vianney 180 Soldiers Pass Road, Sedona. Sign up today: contact Barbara Litrell 300-5839 blitrell@aol.com.
Do the Turkey Trot
Nov. 26
The inaugural Sedona Turkey Trot 5K Fun Run/Walk is Thanksgiving morning starting at 8. Start and finish at Posse Ground Park. Pre-registration is $20. Proceeds benefit Music for Tots program. For information, visit www.sedonaturkeytrot.com
Festival of Trees
Nov. 27
One of Sedona's newest events now in its second year is the Festival of Trees in Tlaquepaque Arts & Crafts Village. This year's theme is The Art Inspired Tree and the event starts the day after Thanksgiving and runs through Dec. 6.
Select artists will each be given a tree to unleash their whimsy, creativity, and boldness upon. And the lucky bid winners get a one-of-a-kind, pre-decorated, artistically inspired Christmas tree in time for the holidays. After public viewing the trees will be auctioned off and the proceeds will go to local (and nationally affiliated) charities.
For additional information please contact Mally Paquette, the event coordinator, at (772) 643-2742. Sponsorship opportunities are also available.
Tlaquepaque is located at 336 SR 179 in Sedona. Visit www.tlaq.com.
Free Chamber Music at the Library
Chamber Music Sedona has announced its schedule for the Sedona Public Library Community Room, featuring Northern Arizona artists, ensembles and guests. All programs begin at 7 p.m.
Jan. 20 - Curtis and Juilliard Graduate Piano Trio
Feb. 10 - Thomas Sheeley, guitar
March 4 - Fry Street Quartet
May 5 - Tony Trischka Territory
Admission is two cans of non-perishable food per person or $5 per person to benefit Sedona Community Food Bank, Sedona Community Center and Verde Valley Sanctuary.
Sedona Professionals
Sedona Professionals is a nonprofit business referral organization that provides a relationship-building and networking environment to its members each week. The group meets every Wednesday morning at Orchards for a breakfast meeting at 7:15 a.m.
For information on attending a meeting visit the Web site at www.sedonaprofessionals.org or contact Lee Congdon at (928) 300-5050.
Hospital volunteers needed
Verde Valley Medical Center is seeking volunteers for its Sedona campus, and EntireCare Sports Medicine locations in West Sedona and the Village of Oak Creek. Volunteering is a great way to get involved and stay active. A commitment of four hours per week is suggested.
Volunteers are matched with assignments that fit their personality, abilities and schedule. The diversity of volunteers - from homemakers to professionals, students to retirees, young to old - makes VVMC stronger and better able to serve the healthcare needs of the community. Key qualifications for volunteers are a helpful, caring attitude and a respect for confidentiality.
Along with the satisfaction of helping others, some additional benefits of volunteering at VVMC include discounted meals, discounted use of the EntireCare Rehab Services fully equipped gym, and continuing education classes.
For more information please call the Volunteer Services department at (928) 639-6550.
Verde Valley
AZ Wilderness Coalition photo workshop
Nov. 7-8
The Arizona Wilderness Coalition will offer its "Roughing it on the Verde" photography workshop. The annual fund-raiser has 25 open slots for individuals seeking a unique opportunity to visit the Verde Canyon in the company of some of the state's best outdoor photographers. The photographers are Elias Butler (Arizona Highways, National Geographic), Mark Miller (Arizona Highways, National Parks Magazine) and Jim Witowski). Cost of the two-day seminar is $100, with the proceeds used to support wilderness programs throughout the state. Participants should come prepared to hike rough terrain. For additional information and details visit www.azwild.org.
Learn to help traumatized people
Nov. 12
Are you interested in helping traumatized victims? If it's not in your nature to walk away from someone experiencing the worst moment of their life and if you would like to work with police officers, firefighters, and nurses on emergency scenes, consider becoming a Certified Trauma Intervention Program (TIP) Volunteer. TIP is a group of specially trained citizen volunteers who provide emotional and practical support to victims of traumatic events. Volunteers are called to a crisis by authorized police officers, firefighters, and hospital personnel. Free training starts Nov. 12. For more information visit TIPofAZ.org or call Sue at (928) 713-6625.
Verde Valley Republican Women
Nov. 18
The Verde Valley Republican Women will hold their monthly luncheon meeting at 11:30 a.m. at Los Abrigados Resort and Spa, located on State Route 179 and El Portal Lane in Sedona.
They anticipate a large number of members and guests to attend this meeting to hear state Sen. Steve Pierce of Prescott. Candidate for the Arizona Corporation Commission Brenda Burns will also introduce herself and her platform for election.
Please make your reservations by calling or e-mailing Erna Sesek at (928) 284-4248, sesek@msn.com.  To receive the monthly newsletter, The Elephant Stampede, call or e-mail Joni Dahlstrom at 284-0947, jonid@esedona.net.
Meet the Professionals
Sedona Professionals is a nonprofit business referral organization that provides a relationship-building and networking environment to its members each week. The group meets every Wednesday morning at Orchards for a breakfast meeting at 7:15 a.m.
Healthy changes to the WIC Food Program
Yavapai County Community Health Services (YCCHS) administers the Federal program, Women, Infants and Children's (WIC) through a grant with Arizona Department of Health Services for eligible participants. The program began in the 1970s as a health prevention program for young children by providing foods with essential nutrients, such as protein, iron, calcium and vitamins A and C. However, many of the foods were also high in calories and fat. The food package has just recently changed to promote healthier eating by including fresh fruits and vegetables, and whole grain foods such as whole wheat bread, brown rice and corn tortillas and switching to low-fat milk
To find out about eligibility for this program, call Cottonwood at (928) 639-8134.