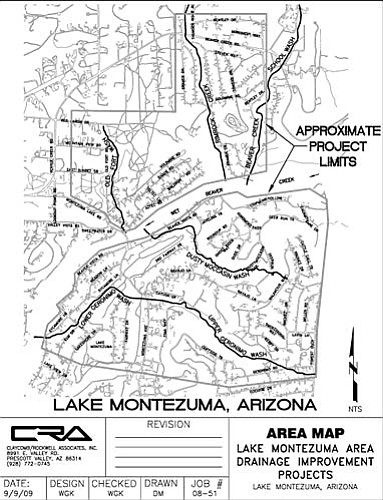 Originally Published: October 1, 2009 6:17 p.m.
When Wet Beaver Creek floods, it really floods, and so do the washes that feed it. No one knows that better than the residents of Lake Montezuma.
The Yavapai County Flood Control District has hired the engineering firm of Claycomb/Rockwell Associates to do drainage studies on many of the washes that feed into the creek. They are seeking the experience and opinions of those who live in the area.
As part of the improvement project, Claycomb/Rockwell, out of Prescott Valley, is displaying two maps of the study area at the Beaver Creek Adult Center, 4250 E. Zuni Way. To help the engineers gather community input, hard copies of a brief questionnaire are available at the Adult Center, or at the Kiwanis Clothes Closet (next to Larry's Barbershop). You can also download and e-mail the survey at the Web site www.clayrock.com/montezuma.htm.
Claycomb/Rockwell's work includes:
• Developing construction plans to extend the existing underground storm drain system in Montezuma Avenue from Dakota Way to Maya Way.
• Evaluating alternatives and providing preliminary construction plans to improve drainage along Lower Geronimo Wash from the Montezuma Avenue/Cayuga Lane intersection to Wet Beaver Creek.
• Evaluating and prioritizing drainage problem areas for future construction projects. The areas of concern include Old Fort Wash, Rimrock Creek, Beaver Creek School Wash, Geronimo Wash, Dusty Moccasin Wash and their tributaries (Wet Beaver Creek and Russell Wash are not included in this evaluation).
Company representatives and Flood Control District staff will be on hand at the Lake Montezuma Property Owners Association meeting Oct. 5 at 5 p.m. to explain the project.
Before hand, the maps can be viewed at the Adult Center's annual rummage sale Oct. 2-3.
More like this story