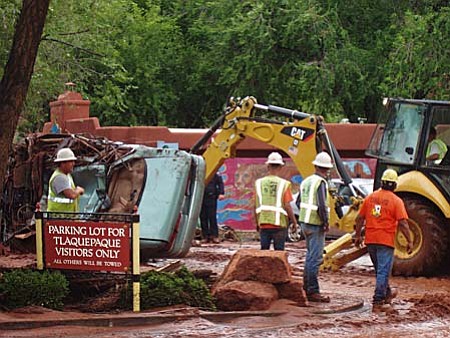 Originally Published: September 11, 2009 11:26 a.m.
SEDONA -- A powerful storm pounded Sedona Thursday, flooding streets, homes and businesses. At the Tlaquepaque Village, the water rose high enough to push cars around the parking lot and into a wash. The vehicle damage is significant and the flooding and mud is creating headaches all over town. Sedona Public Works and other laborers continued to clear roads, parking and property of the thick red soupy mud throughout the night and into Friday.
There were no injuries, but rescuers were needed to reach people in the Hummingbird House, nearby on Brewer Road, where storm water and mud trapped them.
Gary Johnson, spokesman for the Sedona Fire Department, says the calls started about 2:30 p.m. and then 911 calls were ringing off the hook.
The big problem, he said, is when the wash that separates the Tlaquepaque Village and Los Abrigados Resort overflowed, its banks and plugged up the Portal Lane Bridge. Then, cars were lifted out of the parking lot and carried under the bridge, further clogging the waterway.
"Still, by the time the water reached the Oak Creek, the stream was able to handle the flow," said Johnson. There was no additional flooding down stream from the area.
The Weather Service in Flagstaff says that the heavy storm dropped one to two inches in 45 minutes to the north and west of Sedona, but heavy rain did not reach any further south than the Sedona airport.
City Public Works Director Charles Mosley said the damage at Tlaquepaque and Brewer Road is the most visible, but his crews were working on infrastructure issues all over town from Dry Creek Road on the West to SR 179 on the east side.
The older Harmony subdivisions in West Sedona, which have long had an inadequate drainage system, suffered much of the flooding, but water was standing on SR 89a in front of the Safeway and Bashas' Shopping Centers, as well.
David Vonderheid, meteorologist, from the National Weather Service, said that two inches of rainfall within an hour is an event only experienced once every 100 years or so.
It resulted from a "complex of storms that moved very slowly."
Another deluge occurred along SR 260, but that storm was mainly in the mountains and did not affect urban areas.
Organizers of the popular Fiesta del Tlaquepaque says the festival will continue as planned Saturday from 10 a.m until 5 p.m., a tradition for 35 years.
More like this story