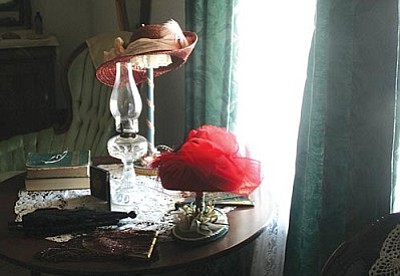 Originally Published: April 2, 2010 10:28 a.m.
PHOENIX -- State lawmakers refused Thursday to let the state Parks Board raise what it needs through fees on motorists to reopen parks already closed and keep others from shutting down.
On a 34-20 margin lawmakers defeated a proposal by Rep. Kyrsten Sinema, D-Phoenix, that would have let the board impose a surcharge every time a vehicle is up for registration in the state.
Sinema's proposal did not have a set dollar amount, saying it would be up to the board to decide how much it needed. But there were estimates that a fee of less than $12 a year would bring in enough not only to operate the parks and do repairs but also to reopen closed rest areas along Arizona roads.
Instead, the Republican-controlled House adopted an alternate plan by Rep. John Kavanagh, R-Fountain Hills, to let motorists voluntarily contribute $10 at the time they register their vehicles. Kavanagh said the last thing Arizonans need now is higher taxes, especially with voters being asked to boost the state sales tax by a penny, to 6.6 cents on every dollar spent on taxable items.
The move drew derision from several lawmakers. Rep. Daniel Patterson, D-Tucson, said it amounts to the worst April Fool's joke ever.
"By passing this bill today, we try to fool the people of Arizona into thinking that somehow this voluntary check-off box, while that is not a bad idea ... this is going to save state parks,' he said. "We know it won't.'
State parks get no direct tax dollars. Instead they survive on admission charges and revenues from special sources like a fee on boat owners.
The crisis was caused when state legislators, looking for cash to balance the budget, raided those funds. Rep. Steve Farley, D-Tucson, said without a quick infusion of cash, the system will collapse -- and soon.
"We need to be able to do something now to keep them from completely closing down forever,' he said. Farley said at that point they would become victims to vandalism.
But Kavanagh said the mandatory surcharge is not just a bad idea. He said it also is illegal.
"The Arizona Constitution clearly says that money collected for registration fees can only be used for the operation of highways and streets,' he said. Kavanagh said only a small percentage of the park system budget involves maintaining the roads.
With Sinema unable to get her mandatory fees approved, some Democrats who supported it decided to go along with Kavanagh's voluntary donation plan in HB 2599.
Rep. Tom Chabin, D-Flagstaff, said that, with nothing else pending to generate immediate cash, this was the only option left. The 42-11 vote sends the bill to the Senate.
There actually is another plan to help fund parks, at least in the short term, though both its political future and legality remain in doubt.
Rep. Warde Nichols, R-Gilbert, has crafted a proposal to give the Parks Department $40 million now sitting in an account earmarked for the purchase of land in urban areas to preserve it for open space, enough to fund operations for the next two years.
But that account was created by voters in 1998. And many Democrats say it would be illegal to divert that for any other purpose.
Nichols countered that keeping parks open amounts to creating open space.
Even if he is legally correct, the Arizona Constitution requires a three-fourths vote to redirect any voter-approved funds. That means finding 45 members of the House and 23 senators to go along, something that may be difficult.
HB 2060 gained preliminary House approval last month, but only on a voice vote. It still needs a final roll call vote before going to the Senate.
"By passing this bill today, we try to fool the people of Arizona into thinking that somehow this voluntary check-off box, while that is not a bad idea ... this is going to save state parks. We know it won't."
Rep. Daniel Patterson, D-Tucson
More like this story