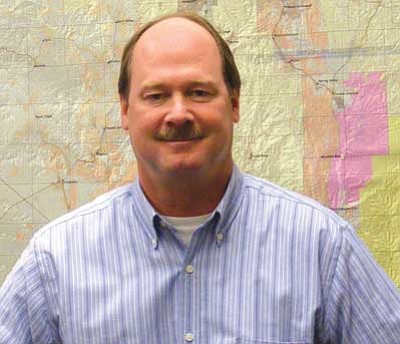 Originally Published: April 17, 2010 3:46 p.m.
Phillip Bourdon gets his kicks from all Yavapai County routes, even dirt roads.
The Board of Supervisors recently appointed Bourdon, 48, to the new post of chief engineer, which pays $117,391 a year. That reorganization places Bourdon as supervisor of four departments and saved the county $174,223.
The departments have meshed well in the past five weeks, he said. The move eliminated three positions.
"We all work really well together," said Bourdon.
The change puts the former Public Works director in charge of about 230 people in Public Works, Development Services, Flood Control and Fleet Management. The directors of those departments, Byron Jaspers, Steve Mauk, Charlie Cave and Dave Gartner, report to Bourdon.
"Yavapai County has been reducing staff at all levels, and this is part of reducing some of the management positions," Bourdon said. "We're trying to pool our management talent and work together."
County Administrator Julie Ayers said the supervisors consolidated the departments to save money and also improve accountability.
"Budget concerns caused us to look at the way we do business," Ayers said.
Supervisors Chairman Chip Davis said, "I think it's going to help our organization and coordination. Those departments he's coordinating all have things in common. It will increase our efficiencies through his oversight and he's a good leader. He's a very intelligent, kind-hearted person. We're very fortunate to have him."
Bourdon grew up in California, studied civil engineering at California State University Fullerton, then worked for the California Department of Transportation before coming to the Prescott area to take a job with a Prescott Valley engineering firm. He began at the county as a hydrologist in 1996 and worked his way up. For many years Bourdon worked on the regional road program on projects such as Fain Road, Pioneer Parkway and Mingus Road.
"I had a young daughter, and I was looking for a more rural lifestyle," he said. "It's a beautiful area to raise a kid."
Bourdon beamed with pride as he related that his daughter, Alexandria, now 19, is a freshman at the University of Arizona, taking a heavy load and doing well. He lives in Prescott Valley with his wife, Tina. His parents also retired here.
"I have a long history of working on some large projects," Bourdon said. "I like road and drainage projects. That's my background. You do something different every day, solving problems, working with all sorts of different people."
While director of Public Works, Bourdon learned to handle controversy.
"That's part of the process, trying to explain construction and design," he said. "Trying to minimize the impact to adjacent property owners. Sometimes you have to answer complaints and investigate and make sure you're doing the right thing."
Bourdon recently came under fire from residents who oppose the widening of Williamson Valley Road. And in 2005, residents opposed a bridge over the Verde River.
"When you see a project come to construction and work with the adjacent property owners to try to follow through on less impact on those properties, recognizing that there are people who live right against the road ... those are the challenges," he said.
On the horizon, Bourdon hopes to widen Fain Road, improve Iron Springs Road up to Skull Valley, secure the right-of-way for the northern section of Williamson Valley Road and the Great Western Corridor planned for State Route 89A to SR 89.
Also, officials opened bids for $1.5 million in construction on Cornville Road north of Cornville that runs on money from the state and federal governments through the Northern Arizona Council of Governments.
And perennial road paving continues apace, although half of Yavapai County thoroughfares remain dirt roads.
"We pave a bit more every year," he said. "It cuts down on the dust."
More like this story