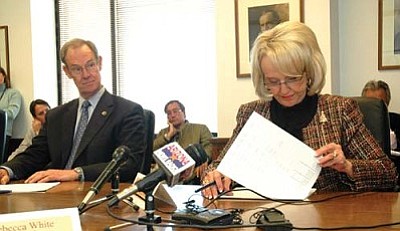 Originally Published: December 1, 2010 3:29 p.m.
PHOENIX -- Arizona election officials are going to have to do something that hasn't been done since statehood: recount a statewide ballot measure.
The formal canvass Monday of the Nov. 2 election confirmed that voters rejected Proposition 112 by a margin of just 128 votes. But anything under 200 votes requires the results to be verified again.
Secretary of State Ken Bennett said there's nothing fancy about it. The counties that use optically scanned ballots simply put them back through the same counting machines; those with touch screens recount the cards that are generated from each vote.
The measure would have required petitions for future ballot measures to be submitted two months earlier than the current deadline of early July. Backers of the proposal said it would give election officials more time to verify signatures and deal with any legal challenges.
Bennett said he did not know why the proposal gathered opposition.
He said there has never been a recount of a statewide ballot measure.
The only other statewide recount was in 1916, four years after Arizona became a state, when the official canvass Tom Campbell defeated incumbent George W.P. Hunt by just 30 votes. But the Arizona Supreme Court, after a recount of the hand-marked ballots in use at the time, concluded Hunt had won reelection by 43 votes.
Bennett said he hopes to have final results for Proposition 112 by Dec. 20.
Overall, there were 1,750,840 ballots cast, for a turnout of slightly more than 55.6 percent of registered voters. Yavapai County topped the list at almost 68 percent, followed by Pima County with its 65.5 percent turnout.
At the other extreme, only 46.3 percent of Yuma County voters went to the polls.
Bennett said there's an interesting link between the root of the word "canvass' and what voters did approve.
He said it goes back to the original spelling of "canvas' which still refers to the material used for sails. But Bennett said both words derive from a French word which, in turn, derives from the Latin word "cannabis,' because sails were originally made from hemp.
"So it's quite ironic that we're here canvassing a statewide election where we had Prop 203,' Bennett said, the measure that allows those with a doctor's recommendation to obtain marijuana.
More like this story