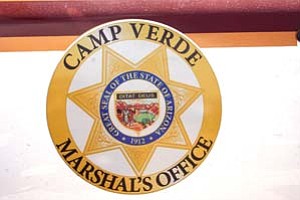 Originally Published: December 6, 2010 2:20 p.m.
CAMP VERDE -- A three-vehicle collision Friday afternoon resulted in the injury of one driver at SR 260 and General Crook Trail in Camp Verde.
The investigation of the accident and statements from drivers and witnesses found that 52-year-old Mary McDowall, the driver of a Honda Accord, was stopped at the intersection of General Crook Trail and SR 260.
She then turned right onto SR 260 into the path of a Hyundai Elantra driven by a 17-year-old girl.
The Hyundai veered to the left across both east-bound traffic lanes SR 260 and then crashed into a semi trailer.
The Freightliner tractor-trailer rig, driven by 53-year-old Enrique Gonzales, was westbound on SR 260 and in the left turn lane for General Crook Trail when hit by the Hyundai. McDowall was issued a citation for failure to yield from a stop sign.
The 17-year-old was transported for injuries. The other drivers were uninjured, according to the report.
More like this story