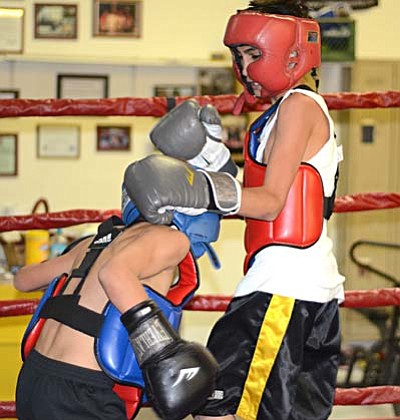 Originally Published: December 14, 2010 3:22 p.m.
COTTONWOOD--The Golden Cobra Gym has scheduled one last fight night for 2010 this Saturday at 3 p.m. in their gym at 252 E. Cherry St. in Cottonwood.
Golden Cobra President Richard Williams has coordinated with six other gyms from four different states to come to the event: California, Nevada, New Mexico, and Arizona.
USA Boxing and IKF Kickboxing/Muay Thai fights will take place. Some of the Golden Cobra fighters are scheduled to fight in two matches, one boxing and one kickboxing.
Javier and Mardquez Mestas are two fighters excited about the chance to fight in two matches on the same day.
"I've been training really hard," said Javier. "In the boxing fight I expect a good long fight. In the kickboxing it should be tiring because it will be my second fight, but I expect to win both matches. I've had two fights in the same day before. I don't mind it. I like it because it's like I have a second chance."
The Mestas brothers train and spar together. They're part of the die-hard group at Golden Cobra and they've gained a lot of experience.
"It's hard to train against my brother because he has a better reach on me, also he has more power" said Mardquez. "It will feel great to end the year with two wins."
Another die-hard Golden Cobra member is Jesse Duran. He's had a lot more boxing matches that kickboxing, but Saturday he'll be using his long legs in a kickboxing match.
"I think I'll do well because I've been sparring against Hulk," said Duran. "I've just been training a lot with Richard, my Dad, Eric, Gary, Skip, all of them. It's been incredibly hard, but it's good for me. I will get tired in the fight, but I'll keep pushing after I'm tired. That's the point."
The Hulk Duran referred to is former Camp Verde wrestler Eric Ruiz. He's a newcomer to the gym, but Richard Williams thinks he shows a lot of promise.
"I could have thrown Eric into the ring for these fights, but I figured I would wait and let him develop a little more," said Williams. "He's a beast."
Joe Gomez and Mario Varela will fight in boxing matches only.
Varela fought his first fight in front of Larry Green a few months back. He started strong, but he lost when the ref stopped the contest in the second round. Varela felt like he could have kept fighting in that match and he'll be looking to finish his fight Saturday.
Gomez looks like he's ready for the ring any day of the week. He's got an intimidating figure and he'll look to utilize his power to out punch his opponent.
Doors open Saturday at 2 p.m. and the first fights are scheduled for 3 p.m.
The cost is $10 for adults and $5 for children.
To get to the gym take sixth street north from 89A. Go left on Cherry and drive until the road ends, then go right and Golden Cobra Gym is at the end of the parking lot.
More like this story