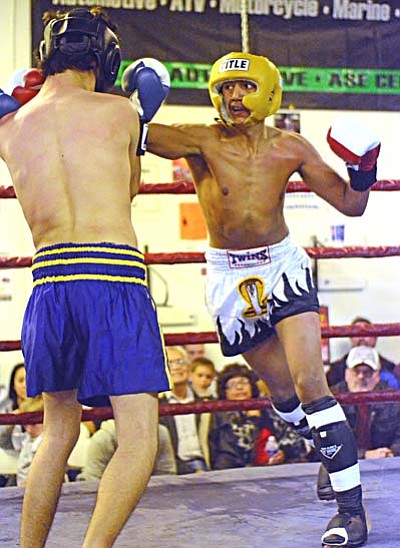 Originally Published: December 21, 2010 2:16 p.m.
COTTONWOOD--Golden Cobra's Holiday Bash Smoker ended the year right for the local boxing crew with a packed gym and a lot of good fights Saturday afternoon.
Boxing matches started the event and kickboxing matches followed.
In the first boxing match of the afternoon GC's Javier Mestas lost to Emilio Mendibles when the referee put a stop to the fight in the second round.
GC's Mario Varela lost to Alex Larrondo from Prescott in the first round of the second fight.
The third fight was a controversial split decision. GC's Joe Gomez fought Prescott's Teary Perkins and it was a very close fight. Two of the judges said Gomez won, and three said Perkins won.
GC President Richard Williams said it was the best fight Gomez has ever fought and it could have gone either way.
A lot of unscored kickboxing matches happened after the boxing. Those matches were more to help fighters gain experience, but they were still very exciting.
The last two kickboxing matches were scored.
GC's Jesse Duran fought Christian Lopez from Blended Arts Do Jo for the semi main event.
Duran was an animal. He undoubtedly fought the best fight of his young career. He looked in shape throughout the fight, never backing down, plus his boxing skills were superior to Lopez's.
Some highlights of the match for Duran were he landed some spinning back-hand strikes and other times he got direct shots to Lopez's face that phased him.
It was a very entertaining fight because Lopez was pretty good too and the fight went the distance. Both young men were respectful to each other after the fight, knowing they both gave it everything they had.
Duran was unanimously awarded the decision.
In the main event Luke Dradesk from One Kick Gym was awarded the decision over Justin Gaines from Blended Arts Do Jo.
Overall, the event was a success and the gym was packed with people who love the sport. Richard Williams said he got positive feedback and the visiting gyms left wanting to come back for the next event.
2010 was a big year for Golden Cobra and the gym is excited about the possibilities for 2011.
More like this story