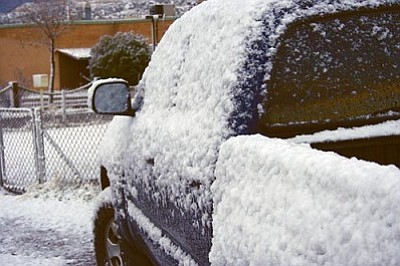 Originally Published: December 30, 2010 12:05 p.m.
2:10 p.m. Update
Since 5pm yesterday, DPS Officers in the Flagstaff area that have jurisdiction over I-17 and I-40 primarily, have responded to 12 collisions only one of which involved injuries. In the same time period, DPS Officers have responded to 38 slide off's in which a vehicle slid off the road but sustained no damage.
An interesting note: During the first eleven hours of the storm yesterday when all highways in northern Arizona were open, DPS officers responded to 43 collisions, 8 of which involved one or more injuries. In the 20 hours after the first of the road closures, officers responded to only 12 collisions involving 1 injury.
Since the recent opening of I-17 at 10:30 local time this morning, officers have seen an increase in the numbers of calls for service, responding to several slide offs on the now OPEN southbound lanes of I-17. Traffic on I-17 southbound is very congested and will remain so for the balance of the day. The road is icy and snowpacked.
In regards to stranded motorists, DPS is working closely with the Coconino County Sheriff's Office Search and Rescue to check the highways which have been closed overnight. Currently Search and Rescue Deputies are using snowcats to check those areas which are completely impassable. A main focus right now is US 180 from Flagstaff to the Grand Canyon. Much of that highway is covered by snowdrifts.
1:45 p.m. Update
*Interstate 17 is open northbound.
*US 180 is expected to remain closed through the evening.
*SR 89A will be reopened as soon as snowplows are able to clear the roadway.
PHOENIX - As Arizona Department of Transportation crews gain momentum in clearing ice and snow from overnight storms, the following highway restrictions remain in place:
I-17 southbound is now open from Flagstaff. Traffic had been closed Wednesday due to snow and congestion. This reopening will allow motorists in Flagstaff to safely travel to metro Phoenix, including I-10. However, if conditions change, drivers should be prepared for delays or temporary closures. Snowplows remain on the roadway.
I-17 northbound remains closed north of State Route 179. Traffic is being diverted to southbound I-17. Drivers are advised to detour in advance or delay travels to avoid congestion at the turnaround.
I-40 remains closed from US 93 on the west to Winslow on the east. Drivers are encouraged to either stop in Kingman or Holbrook or use US 93. Drivers will not be permitted to park roadside.
State Route 89A remains closed from Pumphouse Wash at milepost 386 to Forest Highlands Road at milepost 397 due to winter conditions and resource allocation.
State Route 77 between Globe and Winkleman is closed due to slide offs and icy conditions.
State Route 366 in Graham County has been closed because gusting winds, snow and icy roads that are causing dangerous conditions. ADOT is deploy available crews and snow removal equipment from the Safford area to more heavily traveled routes on US 191 and US 70. With colder temperatures and more snow possible overnight, ADOT expects to keep SR 366 closed to all traffic until Saturday. Known locally as Swift Trail, SR 366 runs west off of US 191 south of Safford and goes to the top of Mount Graham.
Other highways in northeastern Arizona, north of Payson, including State Route 87 and State Route 260 remain closed or under advisories requiring snow chains or four-wheel-drive vehicles.
ADOT strongly advises drivers to delay all travel through Thursday or until roadway and weather conditions improve. Commercial vehicles blocking travel lanes are making access by ADOT snowplows difficult, delaying the clearance of snow and ice.
Before heading out on the roads, drivers are encouraged to check local media outlets, call 5-1-1, log on to ADOT's Traveler Information Center at www.az511.gov for the latest highway conditions around the state, or follow on Twitter at www.twitter.com/ArizonaDOT. Driver safety tips from ADOT at www.azdot.gov/KnowSnow.
More like this story