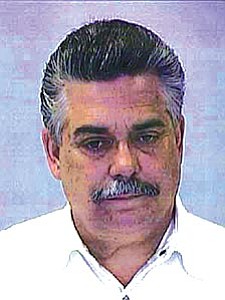 Originally Published: February 6, 2010 4:12 p.m.
YAVAPAI COUNTY - Douglas Dishon will not be returned soon to Yavapai County to stand trial, after all.
One of Yavapai County's most wanted felons, Dishon, 61, is charged with seven years of continuous sexual abuse his stepdaughter, starting from the time the child was 4 years old.
His wife Vicki Dishon is reported to have denied the allegations of her daughter until the grown girl went to police.
He and Vickie fled to Mexico to avoid prosecution. Dishon, who owned an antiques store in Dewey-Humboldt, lived with his wife Vicki under the assumed names of Ben and Sunny Waller in a camper in a small community near Playa del Carmen, Mexico.
He was arrested after he was taken to a hospital with a drug overdose and confessed where his wife's body was buried. Police had been investigating the woman's disappearance.
Dishon was deported in January after Mexican authorities, found Vickie's body bound and taped beneath one and a half feet of concrete under a garage in the RV park where the Dishons lived.
Mexican authorities determined there was a "lack of evidence" to prosecute the apparent murder and released the man to U.S. authorities.
Dishon is also alleged to have abused his own granddaughter as well as a 10-year-old boy, and Maricopa County has a warrant similar to Yavapai County's and was to take first custody of Dishon.
As of last report, Dishon was still in Texas and will remain in custody while Maricopa County seeks a Governor's warrant to extradite, a process that could take up to 90 days.
More like this story