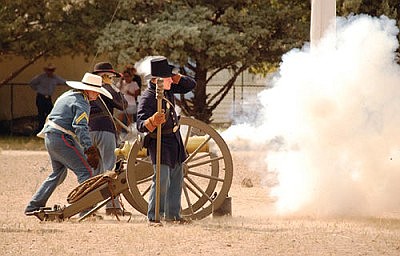 Originally Published: February 19, 2010 10:13 a.m.
PHOENIX - The question of how long state parks remain closed rests today in the hands of a minority of lawmakers -- mostly Democrats.
On a voice vote, the state House on Thursday agreed to borrow $40 million from a special fund earmarked for open space acquisition and give most of that to the state Parks Department. Rep. Warde Nichols, R-Gilbert, said the measure would provide enough cash to reopen at least some of the 13 facilities the Parks Board has voted to close due to lack of funds.
The first of those are scheduled to shutter Monday.
There is no way HB 2060 could become law by then. And Parks Board spokeswoman Ellen Bilbrey said her agency already is erecting fences around the first few parks and intends to go ahead with the plans.
But the dollars could become available this fall, allowing at least some of the parks to reopen.
The problem with all that, according to Rep. Kyrsten Sinema, D-Phoenix, is the move is illegal.
She said the cash at issue comes from the Growing Smarter program Arizona voters approved in 1998. It sets aside $20 million a year for 11 years to help purchase or lease state trust lands in urban areas to keep them out of the hands of developers.
More to the point, Sinema said once voters designated how those dollars can be spent, lawmakers are powerless to divert them -- or even borrow them.
Nichols said that's not true. He said the Arizona Constitution does allow lawmakers to alter voter-approved measures as long as the change furthers the underlying purpose behind the original measure.
"I believe it is expanding the purpose of the Growing Smarter (program) by keeping our state parks open, keeping open space open,' he said.
The catch is that even if Nichols is legally correct, the Arizona Constitution still requires a three-fourths vote for the change he is proposing. That means 45 of the 60 members of the House, meaning 16 foes could derail it. And Republicans who are pushing the plan control only 35 seats.
Earlier this month, all the Democrats on the House Government Committee voted against the measure. And no Democrat spoke in support of the plan during floor debate on Thursday.
The final roll-call vote on the measure -- the one where Nichols needs 45 votes -- will not occur until at least next week. And if it clears that hurdle, it needs to go to the Senate where 20 of the 30 lawmakers must concur.
Aside from Sinema, the legislation also drew fire from Rep. Nancy Young Wright, D-Tucson.
She said the Growing Smarter measure itself was put on the ballot by lawmakers as an alternative to a more comprehensive proposal being pushed by environmental groups. That would have established urban growth boundaries to control sprawl and require developers to pay the full cost of roads and other public services for their new projects.
Young Wright said it would be wrong to divert the little bit of money that Growing Smarter provides.
But Rep. Andy Tobin, R-Paulden, said there is now $104 million sitting in the account, money he said is not immediately needed for open space acquisition. The money is needed, Tobin said, to keep parks open.
To make his point, he read off a list of the parks that are scheduled for closure.
Two are set to be shuttered Monday: Homolovi Ruins and Lyman Lake parks. Five more will close March 29, with six more set to be shut June 3.
"These are all tough choices down here,' Tobin said. He said there is no reason not to tap the money in the Growing Smarter account.
If nothing else, Tobin said, it will give lawmakers time to look for alternate solutions.
One of those is HCR 2040 crafted by Rep. Russ Jones, R-Yuma. It would tack a $9 surcharge onto the registration fee of all non-commercial vehicles, with the funds dedicated to keeping the parks open.
The trade-off for Arizonans would be that anyone with a state license plate would be able to enter the parks for free, though there still could be separate charges for tours or overnight camping.
But Jones said lawmakers need to support Nichols' bill because his own plan, even if it is approved by the House and Senate, would have to be approved by voters in November. And Jones said voters, hit with other requests for higher taxes, might just say "no.'
Jones' plan is set for a hearing Monday before the House Committee on Natural Resources and Rural Affairs.
Sinema said none of that overrides her contention that what Nichols wants to do is unconstitutional.
More like this story