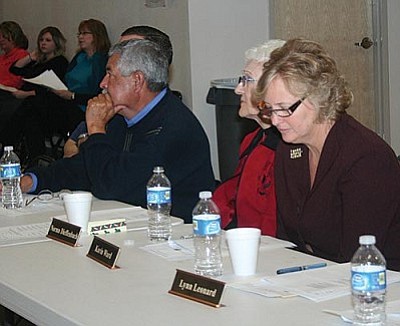 Originally Published: February 20, 2010 4:58 p.m.
VILLAGE OF OAK CREEK - The future of education funding is bleak.
While Arizona residents might be divided over raising the state sales tax by 1 percent, school boards in the Verde Valley see it as one of the few options left.
The question of raising the sales tax by one penny for three years will be on the May 18 ballot. Two-third of the revenue from the tax is to go to public education at the primary and secondary level. The other third goes to health and human services and to public safety.
"If it doesn't pass, schools are going to be devastated," Chuck Essigs told a joint meeting of Verde Valley school boards Thursday at Big Park School. But Essigs, director of Government Relations for the Arizona Association of School Business Officials, also pointed out the sales tax increase is a tough sale in today's economy.
To highlight that, Clarkdale-Jerome board member Becky O'Banion, who runs a gallery in Sedona, said she already hears customers complaining about the current sales tax rate. While a jump in the rate probably will not drive them away completely, "They'll come less frequently and spend less money," she said.
But other board members are eager to get cold, hard fact sheets they can share with constituents in an effort to win over voters. Yavapai County Superintendent Tim Carter cautioned that no school resources can be used for election campaign efforts, but members are free as individuals to talk to as many people about the issue as possible.
Carter, in fact, encouraged them to do so, saying that communities rely upon school board members for their knowledge of school finance.
Randy Garrison, president of the Cottonwood-Oak Creek School Board, suggested using the still-active political action committee Partners in Education in the promotion effort.
School districts are already steeling themselves for the next round of cuts from the Legislature, and the next. Full-day kindergarten and soft capital have been targeted, along Career & Technical Education and other programs. Most school districts in the Verde Valley have already put employees through a Reduction in Force and pared down operations.
Even if the sales tax increase passes, the state's Department of Education is looking at $1 billion in additional reductions.
The end date for the sales tax increase is stipulated on the ballot as 2013. That, coincidentally, is the year the Finance Advisory Committee predicts the financial system will begin to revive, according to Janice Palmer, director of Governmental Relations for the Arizona School Boards Association.
Karla Phillips, education liaison from the Governor's Office (Gov. Jan Brewer is the most vocal proponent of the sales tax increase), said she is concerned about the long-term interpretation of voter intention if the ballot measure fails.
"People who don't have a lot of support for education will use this to say that the voters want more cuts," Essigs said.
Besides shrinking budget issues, school boards face other challenges from current bills in the state Legislature ranging from classroom spending to tax credits and school labels.
Carter said it is times like these that typically drive school board members to quit. He asked them not only to keep going but to also seek re-election. "Stay the course," he said.