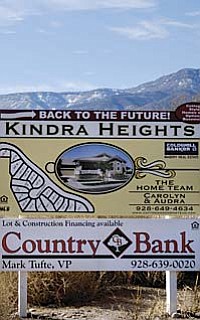 Originally Published: January 12, 2010 3:56 p.m.
VERDE VALLEY - It is difficult to believe that the home construction business could be much worse than it was at the end of 2008.
During the last six months of that inglorious year, permits for new site built homes fell to an average of less than eight per month for the entire Verde Valley including all incorporated and unincorporated communities.
However, 2009 managed to exceed those dismal numbers. And 2010 is setting up to be even worse.
There were a total of just 62 new homes built in the Verde Valley in 2009, lowering the monthly average to just five.
It is a situation that has forced more than one contractor to put away his clipboard, park his pickup and strap on his tool belt.
"You see a lot of the company owners actually doing the bulk of the work right now. Me included," says Doug Noble, owner of Noble Heritage Builders of Cottonwood.
Part of the reason is the lack of work and part of the reason is the size of the jobs.
"We are doing jobs that are almost, but not quite, handyman work," Noble says. "Most of what is out there is remodels. And those are the bigger jobs."
Building permits for jobs other than new homes show that people are still making improvements on their existing homes.
Sedona actually saw a rise in overall construction permits. Camp Verde remained virtually the same as in 2008. Cottonwood and Yavapai County were both down slightly.
Some local contractors, like Brian Rayburn of Rayburn & Sons of Camp Verde, have had to look elsewhere to stay busy.
"I'm actually pretty busy right now. But I have been doing jobs here, in the Phoenix valley and even up in Alpine," Rayburn says. "You just have to be willing to travel."
As for the upcoming year, few contractors see a light at the end of the tunnel.
"I haven't seen a new house in a while," Rayburn says. "The stuff I used to sub out I'm doing myself and I'm having to do it at a good price. I don't see that changing. I'm living off a good reputation."
"It looks grimmer now than it did last year," Noble says. "But we will muddle through it. The guys that survive this will be there when it starts building again. We are thinning out the guys who shouldn't have been in business to begin with."
More like this story