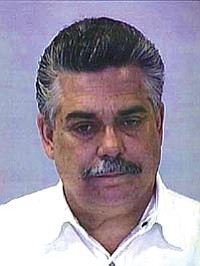 Originally Published: January 14, 2010 4:12 p.m.
A former Dewey antiques dealer, one of Yavapai County's most wanted felons, has been arrested in Mexico. But, Douglas Francis Dishon, 59, has been held for murder by Mexican authorities, not for the continuous sexual abuse for which he was accused in Yavapai County.
Dishon was recently located in a small community near Playa del Carmen, Mexico, where he had been living with his wife, Vicki Dishon, under the assumed names of Ben and Sunny Waller.
Friday, the body of a woman believed to be Vicki Dishon was located under 16 inches of concrete in a cellar near the couple's camper trailer.
Dishon is being held in Mexico pending an investigation related to her death. He is also facing Mexican charges related to assaulting Mexican police investigating the death. It is unknown when he will be returned to the United States to face charges here.
The woman was found dressed in boxer shorts and a T-shirt wrapped in material, with duct tape covering her nose and mouth and shackled hand and foot. She had sustained a blow to the head, but the autopsy results concluded she died of asphyxiation.
He attempted to convince Mexican police that the woman died after combining alcohol and prescription drugs. Later he said she had a convulsion and died in his arms.
Yavapai County investigators originally brought charges against Dishon in 2004 alleging continuous sexual abuse of a child. He fled the area and did not appear for a 2005 hearing, according to Yavapai Sheriff's Office.
America's Most Wanted posted a report of the missing man, telling the story that Dishon. He is also alleged to have abused a 10-year-old boy on a camping trip.
Dishon attempted suicide after Mexican police began an investigation into his wife's disappearance, prompted by the suspicions of neighbors among a colony of tourists in the area, who told police that Dishon was very violent and prone to beating the woman.
More like this story