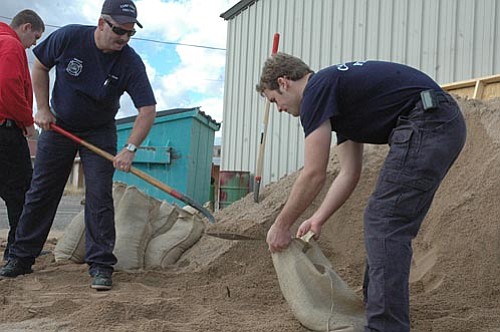 Originally Published: January 20, 2010 3:02 p.m.
VERDE VALLEY -- Fire companies and police in the Verde Valley are mobilizing. The Yavapai Department of Emergency Management is distributing sandbags. The Weather Service is predicting that the triple-storm threat this week will bring heavy flooding on top of rain and snow to low-lying areas of the Verde Valley.
Local residents are advised to pay close attention to weather advisories and evacuate before you are told to do so. Emergency Management Coordinator Nick Angiolillo says people in remote or low areas who may have been warned to evacuate in the past will need to do so this time. Those people should find a safe shelter before Thursday.
He warns that conditions tend to change hourly, but it is important to make decisions before there are power outages and road closures.
"We are expecting six inches of moisture over 48 hours. We can only pray that the jet stream drops low enough that it brings snow instead of rain." Angiolillo says in 2005, two inches of rainfall during a short time period brought two presidential declarations to Yavapai County
The Weather Service is predicting strong winds that will aggravate the situation Thursday as the cold front moves through the area. The agency predicts "near white-out conditions, rapid snow accumulation on trees and utility poles, bringing power outages that could be extended."
Most of the snow will fall above 6,000 feet on the Rim above Sedona, Copper Canyon, on the Black Hills and Mingus Mountain. But, rainfall will be heavy in the Verde Valley, below 5,500 feet, especially Wednesday night through Friday.
The National Weather Service and its Advanced Hydrologic Prediction Service is now anticipating high-water events for rivers and streams in the Verde Valley, mainly on Thursday and Friday.
The weather service is predicting that Oak Creek and the Verde River could reach flood stage and beyond at many of its gauges. Flood-prone streams and washes will be running and should be avoided.
Current predictions could change, but as of press time the predictions all showed flooding or flood potential.
Oak Creek is predicted to reach a peak of 11.4 feet at the Sedona Bridge at 9 p.m. Thursday night. That is below the "action stage" of 13 feet and the "flood stage" at 14 feet.
The peak will reach Cornville about midnight Friday at 16.7 feet. The Weather Service says a major flood is reached at 18 feet at that gauge.
The Verde River is predicted to reach the Clarkdale gauge at 24 feet, the point at which it reaches a "major flood" stage.
The peak is to reach the Camp Verde gauge at 8 p.m. Friday night reaching over 23 feet with a volume of 70,000 cubic feet per second. The gauge reached 28 feet and a volume of 105,000 cps in February 1993, the highest recorded level.
Merry Shanks, spokeswoman for the Verde Valley Fire District, says people don't realize how fast water can rise. Even a four-wheel drive is no help if your vehicle begins to float. Mormon Crossing is one of the areas where water rises quickly.
Sand bags are available at local fire stations:
• Clarkdale: Sand and bags at Clarkdale Fire Dist Station 895 First South St.
• Cottonwood Fire Dept., 116 Sixth Street
• Camp Verde Fire: 37 E. Head Street
• Lake Montezuma-Rimrock area: Sand and bags are available at: Sycamore Park and Montezuma-Rimrock Fire District 3420 Beaver Creek Rd.
• Sedona: Sand, bags and shovels are provided: Uptown - empty lot on Forest Road west of the Fire Station 

• Sedona Red Rock High School parking lot 

• United Methodist Church parking lot on SR 179 near Back-O-Beyond Road
• Verde Valley Fire Information Dist: Sandbags and sand available at both stations. Bring a shovel to fill them half way so you can lift them
• 2700 E. Godard Road, Cottonwood
• 2102 N. Page Springs Road, Cornville
All Verde Valley communities have low points where sheet-flooding collects or rises. Those are areas to avoid. Have an evacuation kit that includes fresh water, copies of important documents, cash, battery or wind-up radio, medications, change of footwear and clothing and some food.
Have an evacuation plan. Keep automobile fueled. Stock up with extra groceries.
Do not cross flooded areas. Two feet of rushing water can carry away most vehicles including SUVs and pickups. Six inches of running water can knock a person off their feet. Running water can sweep a person away. Do not drive around barricade. Almost half of all flash flood fatalities occur in vehicles.
Be especially cautious at night. Many flash floods occur at night.
Stay tuned to local news and listen to warnings. Stay informed of the water levels, and potential of melting snow from higher elevations.
Angiolillo says, "We need to be ready for this. There could be schools and grocery stores closed for a while. This one is pretty heavy."
For the most current weather conditions www.weather.gov/flagstaff
More like this story