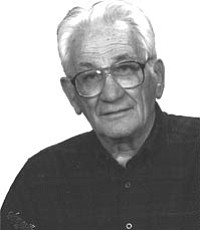 Originally Published: January 22, 2010 1:27 p.m.
Tony Varela, 82, of Camp Verde, AZ went to the Lord on Jan. 20, 2010.
He served in the U.S. Army during WWII and retired to Camp Verde from Pennsylvania in the early '90s.
He is survived by his wife of 60 years, Kathy, sons; Richard and Thomas, daughter; Christine and grandchildren; Kimberly, Colton and Collier.
A memorial mass will be 10 a.m. Saturday Jan. 23, 2010, at St. Frances Cabrini Catholic Church Saturday, 781 S. Cliffs Parkway, Camp Verde. In lieu of flowers, donations may be made to The American Cancer Society. Please share your condolences at www.buelerfamilyfuneralhome.com.
Information provided by survivors.
More like this story