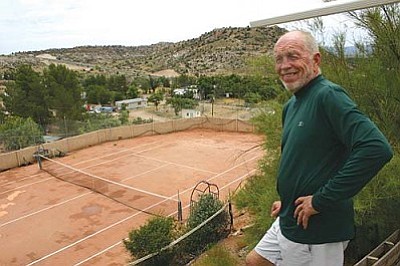 Originally Published: July 20, 2010 2:26 p.m.
COTTONWOOD - Former Cottonwood Parks & Recreation Director Rick Champion has returned to his lifelong passion of teaching tennis. To do so, he had to return from Hawaii to Cottonwood and then build his own tennis court.
Rick has been a tennis pro for 52 years. He started when he was 19. Along the way he has built 14 or 15 tennis courts. The last one, taking two and a half years and just recently finished at his Cottonwood home, is for himself. It brings Rick back to what he has always loved - tennis. Teaching tennis.
Born and raised in Grosse Pointe, Mich., Rick made his way to Phoenix where he worked as a tennis pro. But after 10 years, in 1980, he grew tired of the heat and dry desert.
He said he prayed and asked God to do two things for him to get away from Phoenix. The first was to find a place within two hours of Phoenix because his ex-wife and two children were still there. The second was to be near some body of water.
A short time later, Rick saw an advertisement for five acres in Cottonwood near the Verde River. The property was $50,000, and Rick had only $500. Somehow it all came together. Rick, his new wife, and four children moved onto the property in a camping trailer.
"This house was built by the grace of God," Rick said. He gathered odds and ends from other places, some being torn down and some being sold. The house that he had designed started to take shape.
"I got the roof up, then I ran out of money," Rick said. But he soon received $15,000 that was owed him from a house he had sold in Phoenix. "So I got the walls up but had no glass in the windows yet."
In 1983, Rick got a job as the first director of the newly formed Parks & Recreation Department in Cottonwood. Under Rick's leadership, the new department renovated a boarded up building in Old Town into the Parks & Rec office and put a weight room in the basement.
At some point, Rick became interested in windsurfing. He bought a 12-foot windsurfing board in San Diego and brought it back to Cottonwood. He used it on Peck's Lake.
"I eventually said, 'Man, I've had it with this desert,'" Rick said. He wanted to go where he could windsurf. So, in 1990, he rented out his home and moved to Maui, Hawaii.
While in Hawaii, he worked for six years as a special education teacher, ran a water-treatment company and became principal of a high school that took in kids being let out of prison.
Four years ago, Rick moved back to Cottonwood. He became an active member of Verde Baptist Church, and he spends a lot of time working with the church's worship team. He also sings and plays guitar. On Fridays, Rick holds two worship services for two local nursing homes.
More than two years ago, Rick started building his own clay tennis court. "I built it myself," he said - although he has had some help from others at times.
"It's finished and it's playable," he said.
He is using the court to give tennis lessons. He is in the process of adding training and exercise rooms where he will use state-of-the-art technology to help teach students.
"I'm hoping to have 10 or 12 students," he said. "I see it going in that direction."
Rick enjoys teaching small groups, especially families, but also gives lessons to individuals. He doesn't want to turn away students, so he charges for his lessons on a sliding scale.
Although he uses his western clay court almost daily, and he says it is great to play on, he now knows that the court will likely have to be refinished. During high winds, the court is blowing away, he said.
But he must first make a big decision. He can either resurface the court as a clay court, or he can resurface it with a special carpet and turn it into a turf court. The turf will cost at least $15,000. So Rick is considering his options very carefully.
"I'm just kind of waiting on the Lord right now," Rick said, "to see which way to go."
Call Rick Champion at (928) 301-4008.