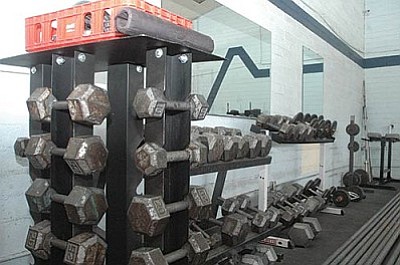 Originally Published: July 27, 2010 2:58 p.m.
CAMP VERDE - There aren't that many locals who would want or need 1,500 wine glasses. Nor do many residents want or need enough free weights and weight machines to start their own neighborhood gym.
And the number of folks in Camp Verde aspiring to own their own police station is a very short list.
But if you offered up such an obscure list of treasures to the entire world, the chances of finding a willing and enthusiastic buyer greatly increases.
That is the theory behind the Town of Camp Verde's new method of obsolete inventory disposal.
Starting Aug. 10, the Town will avail itself of the services of www.publicsurplus.com, an online auction that specializes in the selling off all those things no longer needed by cites, towns, counties and other governmental entities.
Under state law, any and all public surplus inventory must be sold at auction. In the past the Town has disposed of its surplus by putting it out on public display then holding an onsite auction.
The problem, however, is that with some items the number of buyers is minimal and the price paid just pennies on the dollar.
"We are hoping with a larger exposure we will get more money. It's that simple," says Lynda Moore with the Parks and Recreation Department.
According to Debbie Ranney, with the Public Works Department, the town has a lot of inventory to get rid of.
"We will be going through the stuff and putting it up for auction as an ongoing process. Public notices of what will be auctioned off will not be posted, except on the website, so people are going to have to monitor it if they are interested in something," Ranney says.
The first items on the auction block are about 50 cases of wine glasses from the Pecan Wine and Antique Festival, the entire contents of the Town's former weight room and the trailer that once served as the Camp Verde Marshal's Office.
Contact the reporter at sayers@verdevalleynews.com