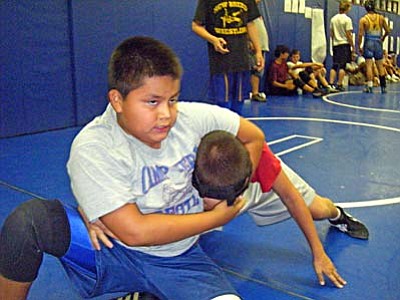 Originally Published: July 27, 2010 2:35 p.m.
There are thousands and thousands of moves in wrestling and it's difficult to teach them in just a couple of years in high school.
That's why a feeder program for younger wrestlers is so important. That's one reason for the New Breed Wrestling Club training during the summer; another would be keeping kids off the streets and focused on life skills.
Our feeder program has been instrumental in Camp Verde's success and has motivated so many other programs to do the same.
Our great facility and hospitality, has lead to a greater interest in the sport among up-and-coming wrestlers/fans as well as strengthened the ties of brotherhood.
This past weekend we had team competitors from Shiprock New Mexico, Horizon, Bourgade Catholic, Sandra Day O'Conner, Prescott, Highland, Verrado, Deer Valley, Chino Valley, Fountain Hills, CVMS, Gifford, Heritage, Newell Barney, West Wing, Bradshaw Mountain, Hillcrest, Mountain Ridge, Mile High, Holbrook, Winslow, Grey Hills, Wickenburg, Mingus Union, Camp Verde, North Valley Misfits, Stetson Hills, Taylor Hicks, Flagstaff, Copper Canyon, Peoria, Buckeye, Paradise Valley, Village Vista, Yuma Catholic and Tucson. This mix produced some great match ups for the day.
One of the most anticipated matches of the day had to be Alex Casillas versus his opponent from Central Phoenix.
Casillas was quick, slick and easily found himself standing at the top of the podium. His triumph captured the hearts of his peers and fans. In a dominant fashion he upset all comers with his notorious "Casillas" move. He proves to be an up coming star, by going undefeated in his last three tournaments. He has become a conqueror against those who far exceed him in experience. This could only have happened because he was a champion at heart to begin with. He has aggressively studied his strengths and weaknesses and making all the necessary adjustments to succeed. He represented his town and his family with honor and dignity. We are very excited to have such an outstanding individual in our room. My congratulations to him for becoming this week's most improved wrestler.
In the Elementary division Favian Chagolla, Skyler Pike, Hayden Bowers, Alyssa Nelson, Korben Uhler, and Madison Allred went undefeated for the day.
It is just unbelievable how much these kids have progressed during this summer.
Wrestling is a great sport for every young person. It teaches sportsmanship, teamwork, and helps to develop a good work ethic. Wrestling will improve self esteem and improve self image.
Wrestling is a complex sport that cannot be learned in a single season. Most young wrestlers do not see a lot of successes until the second year of competition.
It is the effort that is important, not the individual record. Wrestling offers an opportunity to travel throughout Arizona and to other states for competition.
There are meets for every participant and every skill level. Meets are never mandatory, so each family can decide how often to participate and at what level.
For our wrestlers, the friends they have made along the way have been the biggest benefit. They have made lasting friendships that endure on and off of the mat.
Skylar Barker and Michael Nelson put forth an outstanding performance this weekend, defeating all their challengers.
The wrestling community is full of inspirational stories, but it would be hard to find an athlete that exhibits the courage and determination of Skylar Barker and Michael Nelson. Life has handed them many challenges to overcome, however wrestling has taught our boy's self discipline, self control, and the meaning of hard work.
Although an individual sport, they have learned what teamwork is. They have learned how to respect their opponents, their coaches, their parents and most importantly themselves.
Our boys tell us that wrestling has given them experience, having fun, respect for all people, self-confidence, to never give up, how to keep in shape, self-control, and given them a proper attitude adjustment.
A "man among boys" might be the best way to describe Jeremiah Crespo, in middle school wrestling. The winner of Arizona's 2010 State Championship title and a three time Rocky Mountain Nationals placer, Jeremiah dominated all of his opposition this past weekend.
He is just plain brutal. Physical and relentless, his greatness was best demonstrated against the high school opponent from Phoenix, who was devastated by the barrage of chain wrestling moves Jeremiah performed on him. He's probably one of the most gifted wrestlers in Arizona.
Roman Bux continues to impress during the summer competition.
Bux outmaneuvered and outmuscled all his foes for the easy wins.
If he continues to excel throughout the remainder of the off season, he will repeat as state champion this coming year.
It takes a lot of dedication. You have to stay focused for every match and every practice. When you are undefeated people are gunning for you. You have to be ready for everybody. You have to be ready for a six-minute match and work hard.
Bux exemplifies personal drive and integrity. He possesses the seeds of greatness, the way of a champion, demonstrates tremendous energy and creative potential.
Zach Trinidad truly lit the place up with people jumping and cheering him on.
Challenged with a bad case of Asthma which forever haunts him during competition, he fought like a true warrior and overcame being pinned several times during his bout.
His determination sent the crowd into a frenzy. He optimizes the wrestling spirit of never giving up. He continues to inspire his peers, coaches and staff at New Breed Wrestling. Zach is defined by his positive attitude, strong character and engaging personality.
The Unsung Hero Award goes to a person/group within the Community who unselfishly donates towards the overall success of the New Breed Wrestling Program. New Breed Wrestling feels that the administration staff here at the Camp Verde unified School District, has taken the necessary steps to help its community to become extremely successful. We feel very comfortable with the entire school board staff, their work ethic and commitment is second to none. In addition our Superintendent, Dan Brown is a man of integrity and we trust him and his vision for not only the program but the entire school district. One feels inspired and motivated after a visit with him. He not only serves as a mentor but provides all this support (behind the scenes) at no personal gain. Mr. Brown is an extraordinary man who has exemplified remarkable standards of professionalism, motivation and dedication to the youth in our community.
The stars of this program, were and always will be our sponsors. Many thanks to Gerald Klienfelt, Gabe Chagolla, Lara Lawrence, Michael and Jamie Nelson, Jeremy and Denae Uhler, Jay Allen, Bob's Tree and Landscaping, Adam Vega, Camp Verde Realty, Bobby Justus, Bobbye White, Marlin Parker from Rocky Construction, Godfrie Richie and Robert Lake of Salt River Project, International Brotherhood of Electrical Workers Local Union 769 and Local Union 266, Darlene Fiore from Gatorade a division of Pepsico, Dollar General, Greg Elmer Bashas' food store, Harkins Theatres, Fry's food store, Sean Morris Camp Verde Bugle, MATForce Substance Abuse Coalition, Camp Verde School District, Dr. Kirk Westervelt, Bill Schwartz from Bashas', Bill Geyer of BG Automotive, Bob Weir, Steve Lobaugh of Salt River Materials Group (Phoenix Cement), Jim Bowser, Games Plus, The Cowboy Club, Beto's Corner, Crusty's Pizza, Denny's, Napa, Kool water Landscaping, David Brown Agency INC., Amazing Cuts and Color, Domino's Pizza, McDonalds, State Farm Insurance, Super 8, Farmer's INC., Todd Axtell from Arizona's First Choice Appliance, including all the numerous volunteer parents/coaches and the community because without them, none of this would have been possible.
Hayden "The Punisher" Uhler - 1st - 6th gr. - 75 lbs
Favian "Dragon Warrior" Chagolla - 1st - 4th gr. - 118 lbs
Roman "The Assassin" Bux - 1st - 12th gr. - 130 lbs
Derrick "Down town" Brown - 2nd - 11th gr. - 125 lbs
Daniel "Wedo" Dodge - 2nd - 12th gr. - 125 lbs
Michael "The Golden boy" Nelson - 1st - 8th gr. - 128 lbs
Elmer Carrillo - 2nd place - 10th gr. - 172 lbs
Rion "The Lion" Nelson - 2nd - 5th grade - 78 lbs
Jeremiah "Thunder" Crespo - 1st - 8th gr. - 150 lbs
Adrian Carrillo - 2nd - 9th gr. - 119 lbs
Ryan "Rooster" Allred - 2nd - 8th gr. - 103 lbs
Korben " Mad Dog Killer" Uhler - 1st - 3rd gr. - 70 lbs
Mariano Trinidad - 2nd - 12th gr. - 175 lbs
Zach "Trilogx" Trinidad - 3rd - 9th gr. - 120 lbs
Hayden "Head Hunter" Bowers - 1st - 4th grade - 77 lbs
Alex "Lightning" Casillas - 1st - 7th gr. - 80 lbs
Mario "Turtle" Chagolla - 2nd - 1st gr. - 45 lbs
Anthony McBeth - 2nd - 10th gr. - 175 lbs
Alyssa "Care Bear" Nelson - 1st - 1st gr. - 63 lbs
Andrew "Dew" Nelson - 3rd - 1st gr. - 60 lbs
Gabe "Vato Loco" Sallee - 2nd - 9th gr. - 147 lbs
Madison "Mauler" Allred - 1st - 3rd gr. - 69 lbs
Cameren Crittenden - 2nd - 6th gr. - 78 lbs
Greg " Nightmare" Sallee - 3rd - 5th gr. - 79 lbs
Matthew "Warrior" Whitaker - 2nd - 12th gr. - 189 lbs
Dain Sallee - 3rd - 1st gr. - 40 lbs
Skylar "Shredder" Barker - 1st - 6th gr. - 72 lbs
Skyler " The Beast" Pike - 1st - 5th gr. - 67 lbs
Maleah "Clogne" Eppinger - 2nd -11th gr. - 135 lbs
More like this story