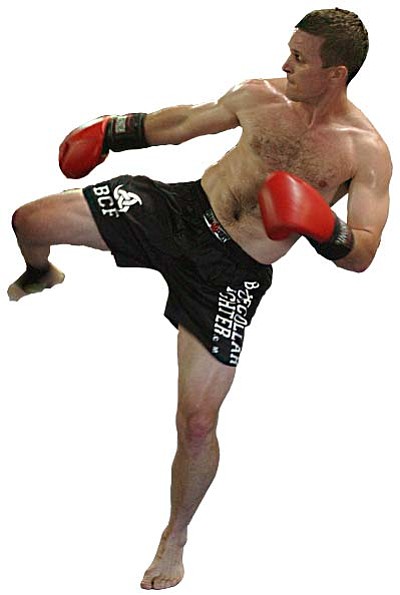 Originally Published: June 17, 2010 3:41 p.m.
COTTONWOOD - The fighters at Golden Cobra Gym are preparing for war. As they train you can see it in their eyes, they want victory.
Golden Cobra's next challenge is scheduled for June 26 in the Fry's parking lot outside of Players Sports Bar and Grill.
There will be boxing matches, kickboxing, and Muay Thai.
No admission fee, as Golden Cobra is a non-profit, but the event is a fundraiser and donations will be accepted.
The goal of the fundraiser is to match the funds already donated to Golden Cobra by a grant from the Phoenix Suns Charity program.
They donated $4,500 toward a new fighting ring, about half of what one will cost.
Golden Cobra Head Trainer Richard Williams said the new ring will be portable.
Even though the gym can break down their current ring and set it up at events, it's not meant for that and it takes a long time. Williams said the process disrupts the gym.
Having the current ring permanently at the gym and a portable ring to set-up outside the gym is the goal of raising funds.
With the portable ring Williams hopes to bring more events to the Verde Valley like the one coming up.
The card for the June 26 event is stacked with intriguing matchups; three of the bouts are rematches.
Williams is excited and says it will be a great show.
Here are the scheduled fights and a little context.
The card is subject to change and more fights could be added.
Boxing
17-year-old Jordan Gyce (215 lbs.) vs. 18-year-old Joe Gomez (180 lbs.)
These fighters both train at Golden Cobra.
Gomez has more experience in the ring and has had a lot of success. Most of his opponents weren't ready for him.
Gyce has had only one fight coming into this one. He's a Mingus wrestler who has dropped 15 pounds since he started training with Golden Cobra. He said wrestling and boxing are completely different sports, but the approach to competition is similar.
The fighters frequently train against each other and they say they feel comfortable with the matchup.
19-year-old Arturo Cesna (145 lbs.) vs. 17-year-old Shaun Henson (145 lbs.)
Arturo trains with Golden Cobra and Shaun Henson trains with Rosales Kickboxing based in Albuquerque New Mexico. This is one of five fights between the two gyms.
15-year-old Jessie Duran (125 lbs.) vs. 17-year-old Eric Henson (125 lbs.)
Duran is from Golden Cobra and Henson is from Rosales. Duran has fought 10 fights and he's gaining confidence.
Duran has the right attitude. "I'm working as hard as I can, trying as hard as I can, just making myself a better fighter," said Duran.
He's recorded two knockouts that he describes as, "The best experience I've ever had."
The euphoric feeling he felt when he got those KO's is used as a motivational tool going into the next fight.
"That's my determination," said Duran. "Get in there and knock him out. If I don't get the KO I'll just give it my all and hope the judges see it my way."
The excitement for the next fight is building.
"I can't wait for this next fight," said Duran. "To get into the ring and start swinging, dodging punches, and going all-out."
Kickboxing
12-year-old Javier Mestas (87 lbs.) vs. 13-year-old Jacob Hawk (90 lbs.)
Mestas is from Golden Cobra and Hawk is from Rosales.
14-year-old Richard Bentley III (115 lbs.) vs. 16-year-old Falon Ring (112 lbs.)
This is a rematch. Last time Golden Cobra's Richard Bentley lost to Falon Ring, but he's been training harder and looks to improve. He knows what he's up against. This fight will be important for Bentley as he gets more comfortable in the ring.
14-year-old Tyler Bentley (91 lbs.) vs. 15-year-old Slade Ring (87 lbs.)
This is another rematch and another fight between a Bentley brother and a Ring brother. In the last fight between the two, Tyler Bentley got tagged in the face during the first round and his nose got bloodied.
He lost the first round, but he kept his intensity and showed a lot of heart. Bentley won the next two rounds and was declared the unanimous winner when it went to decision.
His opponent disagreed with the decision and was visibly upset. You know Slade Ring wants revenge.
Bentley expects to win again and he learned something from the last time he fought Ring.
"Don't judge a book by its cover," said Bentley. "I thought I could beat that kid easily but he bloodied my nose."
Bentley will be looking to win this fight more definatively.
He's been training with
Since the fight Bentley said his kicks are getting better and he wants to finish the fight.
"It would be amazing to knock him out," said Bentley. "That's what I'm looking for."
Muay Thai
35-year-old Robert Biggs (160 lbs.) vs. 26-year-old Daniel Knotts (163 lbs.)
Biggs is part of Golden Cobra and Blue Collar Fighter martial-arts club based in Peoria. Blue Collar Fighter trains people in Muay Thai, Judo, Jiu-Jitsu and Submission Wrestling. This fight will be Thai kickboxing, otherwise known as Muay Thai.
Knotts is fighting out of Las Vegas and a student under Kongnapa Lumpa. Kongnapa was born in Thailand and became a seven-time world champion Muay Thai fighter.
Main Event
28-year-old Cecil Tudor (180 lbs.) vs. 45-year-old Frank Bamford (180 lbs.)
Tudor is part of Golden Cobra and Blue Collar Fighter, and Bamford is a student under Kongnapa. This is another rematch.
Tudor is a firefighter who used to work for Camp Verde Fire Department. Now he works for Glendale Fire Department.
Tudor has been fighting for about 10 years. He's been learning Muay Thai for the last two.
"I like the versatility of Muay Thai a lot more," said Tudor. "We can do throws, we can do knees, and in some states you can use elbows."
Tudor has a wife and three young kids. Sometimes work and family take priority over his training, but fighting is a big part of Tudor's identity.
"I do it as a hobby. It's just something I like to do," said Tudor. "I'd like to be able to teach and I'd like to be able to say that I accomplished something with it, not just that I did it."
Tudor will have a lot of support for this next fight.
"In Camp Verde I've got a lot of friends at the fire station, and a lot of friends and family in the area, so we'll have a good showing," said Tudor.
In the first meeting, Bamford won the decision.
"I fought him before and he won the decision, but he didn't hurt me so I'm not worried about that. I've made a few changes and hopefully it works," said Tudor.
More like this story