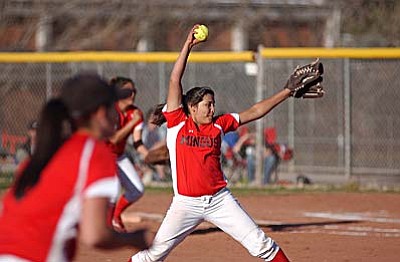 Originally Published: March 16, 2010 2:50 p.m.
The Mingus Union softball team defeated Prescott 8-6 Monday in an afternoon game in Cottonwood.
The game was scheduled on March 9, but was rescheduled because of bad weather.
On March 9, snow fell several times in Cottonwood, but didn't stick. The clouds were darkly threatening and rain was falling all around the Verde Valley.
In contrast to last week, the temperature on Monday was around 68 degrees and bright. Very few people were wearing jackets or sweaters.
The weather conditions probably resulted in a higher scoring game.
"Weather plays a big role," said Mingus head coach Heather Earls. "It could have been a different game last week. It's hard to tell, but I'm happy to play in better weather."
Prescott head coach Alvina Green said her team hit the ball well, but left something desired on the field.
"Offensively we did really well. We got 10 hits and they only got four, " said Green. "Our defense just fell apart. We made errors that we shouldn't have made, routine plays that we should have had and it's unfortunate that we were on the short end this time."
Mingus entered the fifth inning down one. They only had one hit that inning, but they scored three runs.
Mingus batters were working the count full and fouling-off a lot of pitches.
Coach Earls was encouraging them from her spot at third base, letting them know they were doing a good job protecting the plate.
The lone hit of the inning came off the bat of Cassie Norman for a leadoff single.
Then McKenzie Ricca was attempting to bunt, but was walked in four pitches.
Bailey Mabery then reached on an error to load the bases.
Kalina Boysen tied the game with a fielder's choice RBI.
For the rest of the inning Mingus batters only advanced on walks, the result of Mingus batters' patience and ability to foul-off strikes.
All of the eight Mingus runs were scored while Badger Sarah Thompson was pitching, but Green felt she pitched well.
"Sarah pitched a great game," said Green. "Unfortunately she had some errors behind her and that caused us to lose this game."
Thompson was substituted in the bottom of the fifth with two outs after she walked-in two runs, giving Mingus a two-run lead.
Aj Boaz pitched the final four outs of the game for Prescott and retired every batter she faced.
After the game coach Green put the game into perspective.
"We've always struggled against the Mingus team," said Green. "I felt our team really came to play hard today. Those routine plays that we usually get were what killed us. Hope to get them next year."
Marauders' coach Earls was happy with her freshman pitchers in this game. Torey Gillies started the game and Angelina Saucedo finished it.
"They did a good job and they're learning. They're not power pitchers, they're both spot pitchers, and they're doing their job of throwing strikes. We really don't want them throwing a lot of balls," said Earls. "We want the defense to help them and take care of it."
The team's junior pitcher McKenzie Ricca will be limited because of a back injury, and the team will be relying on its freshman pitchers a lot.
Earls feels her team is getting better every game and they love playing together.
Their next game is March 25 at Mohave High School for a tournament.
More like this story